Scott Walker Won't Rule Out Another Iraq Invasion
The Wisconsin governor keeps all options open.
By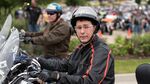 Probable Republican presidential candidate Scott Walker says he wouldn't rule out a full-scale American re-invasion of Iraq "if the national interests of this country are at stake."
Appearing on ABC's This Week on Sunday, the Wisconsin governor initially demurred when interviewer Jonathan Karl asked if he'd rule out a "full-blown U.S. re-invasion of Iraq and Syria."
"I don't think we should ever send a message to our foes as to how far we're willing to go," Walker said.
He doesn't think it's necessary to send U.S. troops now, he said, but he "would not rule out boots on the ground." He made a similar comment in February, saying he "wouldn't rule anything out," including sending U.S. ground troops to Syria to fight the Islamic State militant group, as commander-in-chief.
Asked again if he'd be open to launching a full-scale re-invasion of Iraq, Walker kept that option open.
"If the national interests of this country are at stake, here at risk in this country or abroad, that's to me the standard of what we do for military engagement," he said.
Walker said in a statement last month that "knowing what we know now, we should not have gone into Iraq" in 2003, and accused President Barack Obama of making the situation there worse.

In the ABC interview, Walker also said he would support a constitutional amendment to affirm that states can prohibit same-sex marriage if the Supreme Court legalizes it this month. He described former Florida Governor Jeb Bush as a formidable rival in the Republican primary because he's "going to have more money than just about all of us combined."