Obama Gets Tip Over Bavarian Beer on G-7 Tour With Merkel
Arne Delfs and Justin Sink
The people of Kruen in Bavaria only learned at the last minute that the world's most powerful man and woman were going to tour their village.
"We were surprised to be invited," said Bernhard Neuner, the leader of the local branch of a traditional Alpine rifle club, a grouse feather sprouting from his green cap. "Normally we would fire a salute, but this time we had to leave our guns at home."
Bavarian folklore mixed with modern security as U.S. President Barack Obama's motorcade swept into the village square on Sunday to be met by German Chancellor Angela Merkel. Men in lederhosen played alpine horns to greet the leaders, who are in southern Germany for a two-day summit of Group of Seven leaders in nearby Schloss Elmau.
"That was without question the best alphorn performance that I've ever heard," Obama told the crowd, all of whom were in traditional dress of leather shorts for the men and decorative dirndl dresses for the women. "I have to admit that I forgot to bring my lederhosen, but I'm going to see if I can buy some while I'm here."
Beer and Pretzels
The two leaders sat with villagers drinking wheat beer -- non-alcoholic for Obama -- and eating pretzels in the sun. For all the smiles, the president was told about rural concerns over the planned Transatlantic Trade and Investment Partnership, or TTIP, which both he and Merkel champion. The prospective accord was the subject of further discussions when the leaders held a private meeting at Schloss Elmau.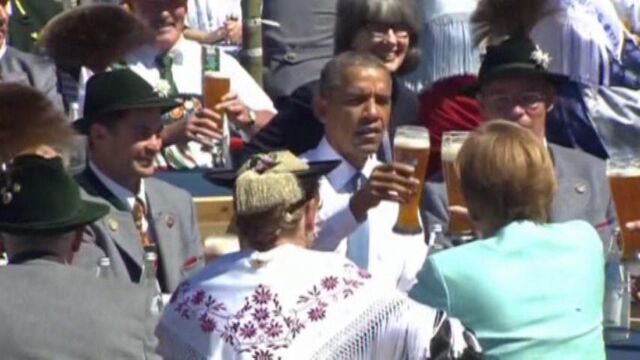 "We talked about the problems of free trade for regional farmers," said Alois Kramer, 45, a farmer from Kruen who was seated next to the U.S. president for about 15 minutes. "He said that he understands that TTIP would be difficult for farmers who produce milk and vegetables."
Kramer, who learned his English working on a farm in Vermont, said that Obama told him his beer was alcohol-free because he had work to do. While praising the president's openness and concern, Kramer said Obama had failed to convince him about the benefits of TTIP. "I know there are such strong lobby interests behind this," he said.
Merkel's husband, Joachim Sauer, meanwhile taught the president how to cut a Weisswurst, another Bavarian specialty.
Obama, now jacketless, shook hands with villagers with Merkel translating as the leaders prepared to leave.
"It was a very fine beer," said the president. "I wish I was staying."