business
Walter Energy Said to Be Negotiating Bankruptcy as Soon as This Month
Laura J. Keller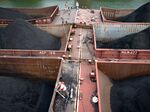 Walter Energy Inc. is negotiating a debt restructuring with senior lenders that may put the unprofitable coal producer into bankruptcy as soon as this month, according to two people with knowledge of the discussions.
The coal miner, which rejected earlier proposals sent by creditors, is expected to send a revised plan to first-lien lenders, including Blackstone Group LP's credit arm, Franklin Resources Inc. and Cyrus Capital Partners, that includes a request for a debtor-in-possession loan that would allow the company to operate while in bankruptcy, said the people, who requested not to be identified because the talks are private.
William Stanhouse, a spokesman for Birmingham, Alabama-based Walter, declined to comment on the talks. Peter Rose, a spokesman for Blackstone's GSO Capital Partners, and Ember Shmitt, a spokeswoman for Cyrus Capital, declined to comment. Rebecca Radosevich, a spokeswoman for Franklin, didn't immediately provide comment.
Walter, which last generated an annual profit in 2011, has been in talks with lenders for almost two months on a reorganization as it struggles amid the worst downturn for coal in decades. Prices of metallurgical coal have been undermined by excess supply and slowing demand from China.
Going Concern
The mining company warned last month that there was "substantial doubt" that it could continue as a so-called going concern. If Walter is unable to restructure, it "may consider filing voluntary petitions for reorganization under Chapter 11," according to a May 5 regulatory filing.
The company and the creditor group have so far been unable to agree on how to structure a bankruptcy plan. Creditors expect that the company's coming proposal may include better recoveries for parties including mine workers to whom Walter owes pensions, the people said. Walter had earlier rejected a proposal by creditors that floated pursuing a sale of the company through the bankruptcy maneuver known as a 363 sale, said one of the people.
The first-lien creditor group, which includes Apollo Global Management LLC, has been pushing for the company to convert its debt holdings into equity and hand over ownership to them, said the people. The creditors had sought to persuade Walter not to make payments due to two sets of junior debt holders in April, people with knowledge of the matter told Bloomberg at the time.
Charles Zehren, a spokesman for Apollo at Rubenstein Associates Inc., didn't immediately respond to telephone and e-mail messages seeking comment.
June Payment
Walter said last month it would make those interest payments 30 days after the due date, taking advantage of a grace period, according to a May 7 statement. Its next payment is due on June 15 to holders of its $388 million of 9.875 percent senior unsecured notes maturing December 2020. Walter would have to pay that coupon by July 15 in order to avoid giving those junior creditors the ability to file a notice of default.
The notes traded at 8 cents on the dollar on May 7, according to Trace, the bond-price reporting system of the Financial Industry Regulatory Authority.
Walter's $970 million of 9.5 percent first-lien secured bonds due October 2019 dropped about 1.8 cents to 52.8 cents on June 3, Trace data show.
(Adds negotiation details starting in fifth paragraph.)
Before it's here, it's on the Bloomberg Terminal.
LEARN MORE