Five Things Everyone Will Be Talking About Today
The week isn't over yet, get caught up here
By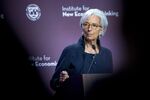 OPEC concludes its meeting, Greece reaches for the Zambia playbook and prepare your #NFPGuesses for 8:30 a.m. ET. Here are some of the things that people are talking about in markets this morning. 
Greece pulls a Zambia
Greek Prime Minister Alexis Tsipras told the world this week not to worry about an IMF payment due today. Now we know why. Greece has asked the IMF to bundle all of June's payments into one at the end of the month, becoming the first country to defer an IMF payment since Zambia in the 1980s. Tsipras, who will address parliament later today, is staring down creditor demands and refusing to budge. Brace yourself for another month of stalemate, false dawns and Grexit talk.
Job numbers incoming
226,000 is the amount of jobs that were probably added to the U.S. economy in the month of May, according to the median forecast of economists surveyed by Bloomberg. The unemployment rate is expected to remain at a 7-year low of 5.4 percent. How will today's labor market data shape the policy debate at the Federal Reserve? Well if IMF Managing Director Christine Lagarde has anything to do with it, then not a lot. The IMF would like the Fed to hold off raising rates until 2016.
OPEC decision time
Crude's 11-week record breaking winning streak might come to an end today. At the time of writing, WTI is poised for the first week of losses in about 3 months. The pullback in crude prices this week comes ahead of OPEC's decision today on whether to maintain production at its current pace, 33 out of 34 analysts and traders surveyed by Bloomberg say it will.
A brutal week for bunds
It has been an ugly week for the global bond market and even Bill Gross has called it scary as hell. But one market in particular has dominated the headlines: the bund market. While the yield on the German 10-year dropped below 0.5 percent in Monday's session, by Thursday it had surged to within a whisker of 1 percent. German government bonds are now heading for their worst week of losses since 1998.
GS nears $2 billion settlement
The big money fines aren't over yet. Goldman Sachs is said to be in talks to pay between $2 billion to $3 billion to settle an investigation into sales of mortgage bonds in the lead up to the 2008 financial crisis. According to a person with direct knowledge of the matter, GS could reach a settlement with the U.S. Justice Department within weeks.