business
Canada's Ailing Factories Lead Forecast-Shattering Job Surge
Greg Quinn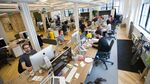 Canada added six times as many jobs in May as economists predicted on the biggest manufacturing gain in four years -- the kind of progress the central bank says is needed to foster a recovery from the shock of lower oil prices.
Employment rose by 58,900 following an April drop of 19,700, Statistics Canada said Friday in Ottawa, compared with a median prediction in a Bloomberg News survey for an increase of 10,000 positions. Manufacturing rose by 21,500, the most since December 2010. Combined with April's 10,400 rise, it marks the biggest two-month percentage increase in factory employment since 2002.
The strength counters other recent setbacks -- shrinking first-quarter output, record trade deficits, slow inflation -- and supports Bank of Canada Governor Stephen Poloz's view that momentum is shifting to non-energy companies as the oil industry cuts investment and jobs, economists said.
"It's an encouraging signal," said Doug Porter, chief economist at BMO Capital Markets in Toronto, who compared the recent factory-job gains to those in 2002 when manufacturing benefited from a Canadian dollar close to record lows. "The employment numbers are certainly a pleasant surprise but I don't think it's enough" to rule out a chance of another rate cut, he said.
Weaker Currency
Poloz lowered his key rate in January to 0.75 percent and in recent weeks said the move provided enough "insurance" to sustain a recovery. Canada's dollar was little changed at C$1.2489 per U.S. dollar at 11:55 a.m. Toronto time.
The currency's longer-term depreciation against the U.S. currency from parity in early 2013 is giving exporters a boost. So is stronger U.S. growth that spurs demand for Canadian goods. Today the U.S. reported adding a more-than-expected 280,000 jobs.
Honda Motor Co. said March 30 it will build and export as many as 40,000 CR-V sport utility vehicles annually to the European Union from its Ontario facilities. French-based manufacturer Lisi said June 1 it would hire 116 workers over the next three years to expand its production of aerospace parts in Montreal.
"There is far more resiliency in the Canadian job market than anybody had thought," after the drop in oil prices, Derek Holt, Scotiabank's vice-president of economics in Toronto, said by phone. Signs of global weakness still mean that Bank of Canada policy makers will "remain cautious through the rest of the year."
'Worst Fears'
Even with the recent factory revival the industry's employment has fallen to about 1.7 million from 2.2 million a decade ago. Policy makers have said some of that activity won't be restored following the 2008 financial crisis.
Governor Poloz said in his last speech May 19 that while there while there are signs that labor-market slack is being used up, there may be further weakness linked to a drop in oil prices.
The jobs report suggests "some of the worst-case fears of the economy may go unrealized," David Tulk, chief Canada macro strategist at Toronto Dominion Bank, said by phone from Toronto.
Benchmark New York crude-oil prices of about $58 a barrel Friday are down from more than $100 last summer, prompting Alberta energy companies to scale back investment and economists to question their 2015 growth forecasts. Prices have crept up from lows of below $45 a barrel.

Factory Hub
In the province of Alberta, hurt by a slump in crude oil prices that triggered a drop in investment, the jobless rate rose to 5.8 percent in May -- the highest since January 2011. Unemployment rose from 5.5 percent as the number of jobs fell by 6,400.
Ontario, a manufacturing hub home to the country's major automobile plants, added 43,900 new jobs in May. Unemployment in the province fell to 6.5 percent from 6.8 percent, the lowest since September 2008 as the last recession took hold. The gap between unemployment rates in Ontario and Alberta was the narrowest since the start of 2001.
The national unemployment rate was unchanged for a fourth month at 6.8 percent as more people entered the workforce.
Private companies added 56,800 workers in May while public-sector employment fell by 19,100, Statistics Canada said. Employment in service industries grew by 48,600, including 20,700 in health care and social assistance and 16,800 in retailing and wholesaling.
'Still Headwinds'
Part-time positions grew by 27,900 after an April drop of 66,500 that was the most since March 2011. Full-time employment for May rose by 30,900 positions.
Average hourly wages of permanent employees rose 2.9 percent in May from a year earlier, faster than April's 2.4 percent gain. The number of hours worked climbed 1.2 percent.
The report was "very strong, but some of it is likely a reversal of the weakness from April," Charles St-Arnaud, senior economist at Nomura International, said by e-mail from London. "There are still a lot of headwinds for the economy."
(Updates with regional detail and economist comment in fourth paragraph.)
Before it's here, it's on the Bloomberg Terminal.
LEARN MORE