Learn How to Ride a 2,000-Pound Bull in the Ring
For $595 you can spend three days at a rodeo camp for adults. But only you can teach yourself to find the bull's center of gravity
By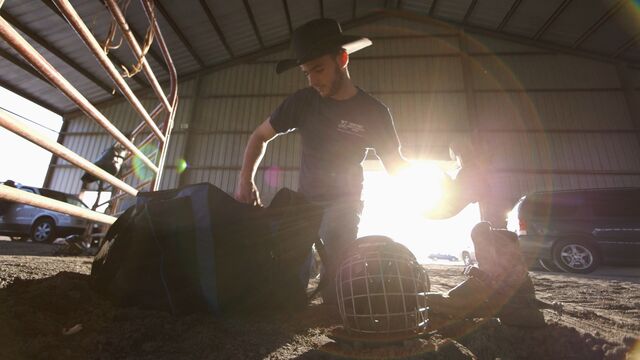 For two decades, world champion bull rider Gary Leffew has shared his skills at a private rodeo school near the Los Padres National Forest in California. He also runs traveling seminars for ambitious amateurs, teaching bankers and doctors the timing and technique required to ride a 2,000-pound bull.
"You need to find the bull's center. To do that, you've got to go through your own," Leffew says. "The best riders almost share a mind with the animal."
After gauging students' aptitude and drilling them on barrels that mimic a bull's jump and kick, he teaches countermoves to maintain balance and a standard straight-arm technique to push the animal forward. Then it's time to ride. Students get strapped to a steer, one hand secured to its backside with a thickly braided rope. Leffew, 70, shouts cues from the sidelines: Dig in with your spurs, break forward at the waist, lunge over the bull's shoulders, and run like hell if you fall.
"I rode three bulls on a Saturday, then entered the arena as a bull rider on a Sunday," says L.A.-based writer Joel Reising. "To a pro that probably doesn't sound like much, but it goes over big at cocktail parties."
$595 for a three-day camp, or $200 per day; hotmanrodeogear.org
Before it's here, it's on the Bloomberg Terminal.
LEARN MORE