business
There's a Big Decision Looming for Chinese Stocks
Mark June 9 in your calendars.
By and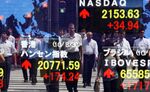 A New York-based company is getting ready to make a call on China that will determine whether billions of dollars flow into the nation's world-beating stock market.
The June 9 decision by MSCI Inc. on the possible inclusion of China's locally traded shares in the index-provider's equity benchmarks comes after a year of consultation with banks and funds. MSCI is faced with a situation where it's getting harder to ignore the Chinese equity market, already the world's second-largest with a total value of more than $9 trillion. Yet for most international investors, mainland-listed stocks remain out of reach due to limitations on their tradability.
Foreigners own only 5.9 percent of the yuan-denominated A shares because of regulatory restrictions even as the government moves to open up access to the exchanges in Shanghai and Shenzhen. MSCI, whose emerging-market gauge is tracked by $1.7 trillion of funds, could help change that.
"It's a big deal," Sebastien Lieblich, Global Head of Index Management Research at MSCI, said by phone from Geneva. China's market is "relatively untapped," and an inclusion would suggest it be "elevated to be part of the major radar screen of international institutional investors," he said.
Being added to MSCI's indexes would mark the integration of China's locally traded stocks into the world's financial markets after being largely off limits to foreigners until recently.
Here are some of the most important issues investors need to know as the decision approaches.
Q: How likely is the inclusion of China's A shares in the MSCI indexes such as the emerging-market gauge?
MSCI deemed the A shares ineligible for its benchmarks a year ago because of the limitations to investing in the locally traded companies. While the odds for inclusion have improved since November when China gave investors in Hong Kong unprecedented access to mainland stocks, it's still a close call.
Five of 12 asset managers surveyed by Bloomberg in May said China's A shares should become part of the global indexes in 2015 as part of the June 9 decision, four said they shouldn't, and three didn't give a definitive response.
Detractors want China to further relax investment curbs and provide more tangible proof of share ownership. Proponents say the market liberalization is set to accelerate.
Q: What will happen if the A shares are included?
Benchmarks with Chinese constituents have to adjust, including the MSCI China Index, Asian indexes and most importantly the MSCI Emerging Markets Index. Currently, China accounts for about 25 percent of the developing-nation gauge, mainly composed of mainland companies listed in Hong Kong.
The initial impact could be limited. As the first step, MSCI will add about 5 percent of more than 200 eligible A shares to the emerging-market index, accounting for less than 1 percent of the benchmark. MSCI will wait at least 12 months to implement the change to allow investors to adjust their portfolios.
The initial inclusion may attract about $2 billion from funds tracking the index, according to MSCI. That is about the same amount foreign investors can purchase of the mainland shares daily through the Shanghai-Hong Kong link program.
A full inclusion, which is subject to China's continued relaxation of trading restrictions, would increase the weighting of the domestically-listed shares to 13 percent and the total of onshore and offshore stocks to 38 percent. From passive investors such as exchange-traded funds alone, it may add $33 billion of inflows, according to Fidelity Worldwide Investment.
Q: What will happen if the A shares are not included?
In that case, MSCI will start another 12-month review with global investors and can still make the change before next June should the Chinese government take major steps to open up the market.
It's only a matter of time before China's mainland shares becomes part of a major international index. FTSE Group, which competes with MSCI to provide investment benchmarks, announced last month the launch of two emerging-market indexes that include A shares. Following the move, Vanguard Group Inc., which oversees $3.3 trillion in assets as the largest U.S. mutual-fund firm, said Tuesday that it will add mainland shares to its $69 billion emerging-market index funds.
Q: What has China done since the last review a year ago?
By luring more institutional investors from abroad, the government has aimed to professionalize the stock market, where individual investors now account for about 80 percent of the trading.
Regulators have addressed some of the key issues that emerged from MSCI's review last year, including increasing the quotas for overseas investors under existing QFII and RQFII schemes. They also granted a "temporary" waiver on capital gains levies in November for stock purchases through the Shanghai-Hong Kong exchange link.
Policy makers have also eased controls on using multiple brokers and started a trial to allow same-day trading on some securities. A stock-link program between the Hong Kong and Shenzhen exchanges may start later this year.
Q: What would inclusion mean for Chinese stock valuations?
Mainland stocks on the Shanghai Composite Index have already soared more than 140 percent in the past year, prompting some analysts and investors to question whether the Chinese equity market is in a bubble. An influx of new money as investors rebalance their portfolios to reflect the index change could fuel a further rise in China's already impressive rally. Some commentators have criticized the dominance of benchmarks in investing for exacerbating market exuberance. 

(Updates previous version of this story.)
Before it's here, it's on the Bloomberg Terminal.
LEARN MORE