The Definitive H&H Rick Perry Scouting Report
The longest-serving governor in Texas history comes back for another try at the White House.
By and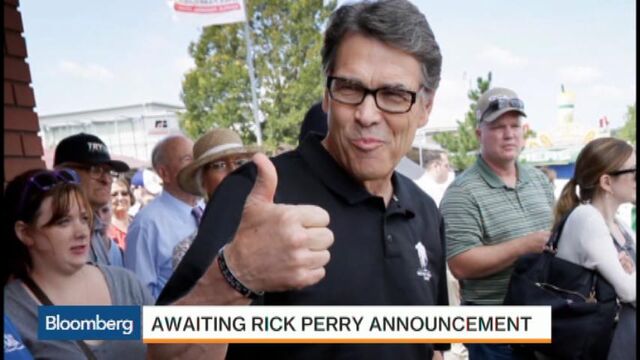 What he's got: Most potent combo of ag, military, and governing experience in the field; strong job-creation record during his stint as longest-serving governor of Texas; social conservative credentials; humble origins; leaderly aura; sustaining faith; underrated retail skills; no current time-consuming job to distract from campaigning; the soft advantages of low expectations.
What he lacks: Support of many past associates; establishment backing; power of incumbency to twist arms; broad national following; ability regularly to show his natural self in speeches and other appearances; capacity to elude predicament of campaigning under criminal indictment; a fresh face; a margin of error.
Biggest question mark: Will voters–and the media– give him a second chance?
Message: "Texas is a model for creating opportunity, and the promise of tomorrow begins today."
Core constituencies: A slice from every element of the Republican coalition (especially veterans and rural voters), but not a sufficiently sizable one of any so far.
Signature issues: Energy, regulation, limiting Washington's power, border control.
Fundraising mojo: Chances at big-time donor and bundler support has been hurt by rise of rivals, especially Ted Cruz and Jeb Bush. Still backed by some of the legions who donated to him as governor, but his potential to garner monster super-PAC checks and build a grassroots contribution network remains unclear, even to some on his extended team.
Spouse and family: Wife, Anita Thigpen Perry; daughter, Sydney; and son, Griffin; all are insistently supportive and eager to share in any redemption that may come; new grandchild is a source of beaming, charming pride.
Perceived electability as GOP nominee: At this point, difficult to see him winning many states that Mitt Romney lost, let alone putting 300-plus electoral votes in play.
National-security credentials: Former Air Force captain flying C-130s; has traveled on official and political trips to Europe and the Middle East; has worked hard to show intellectual fluidity on foreign policy issues.

Television skills: Generally game and congenial, but almost always goes for flashing Texas-sized tough talk over more nuanced, attractive sides of his personality (irony, for instance, typically falls by the wayside).
Social media/online chops: Bold graphics and a credible Twitter presence with 287K followers (and a profile picture of him holding a puppy, adding a cuteness factor); 1.1M followers on Facebook; 1,665 followers on Instagram; just joined Snapchat. Displays whimsy at times but unclear if he has a lurking tech-savvy army ready to mobilize.
Media coverage: Still gets his share of ink when he does something assertive, but is omitted from nearly all the speculation about whom the nominee might be; faces a media audience that treats him like a dim-witted, oops-spouting, construction worker sprinting across a 90-story-high narrow beam littered with banana peels.
Polling strength: Failing to show much positive movement anywhere, even in Iowa, where he has spent a lot of time, focused much attention, and has a strong staff.
The Big Mo: Hasn't found the right moment, issue, or opponent to push out of his stall.
Fire in the belly: Blazing. Scarred by his humiliating underperformance in 2012, as determined to do it right this time as anyone in the hunt.
The hang test: As personable as they come, especially when he can talk agriculture, faith, parenting, or military life.
Challenges party orthodoxy: Was criticized in 2012 for signing the Texas DREAM Act in 2001 (which inspired Barack Obama's federal version) and took heat when he defended in-state tuition for illegal immigrants.
Best moment of 2016 cycle so far: After White House fence-jumping incident, warned on Morning Joe: "Let me tell you, Texas governor's detail, do not try to run through the governor's mansion. Because Shannon O'Neil, the lady that's on our detail, [will knock you] dead down."
Worst moment of the 2016 cycle so far: Indictment in Texas for allegedly abusing his power after he said he would veto state funding unless the Austin district attorney resigned.
Best Bloomberg Politics moment:  Crashing the cold open of With All Due Respect with a hilarious, deadpan reference to a fabled incident from his past: "Coyotes, you're on notice, I got 4 dogs now and I will shoot you."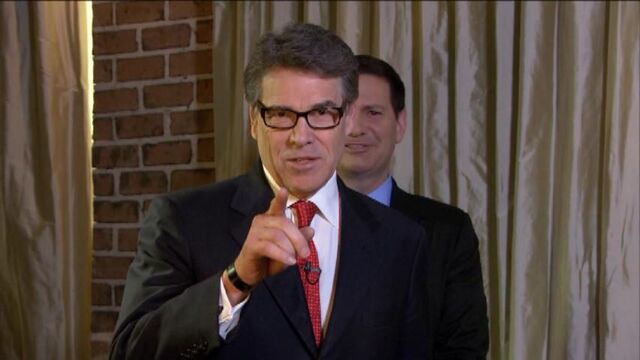 Picture he doesn't want you to see: His mug shot (handsome though it may be).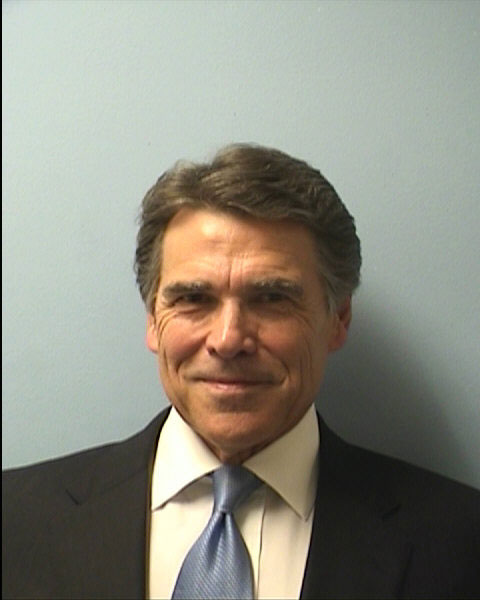 Kendall Breitman contributed to this report.