Ted Cruz Apologizes for Joking About Joe Biden
The vice president is preparing to bury his son, who just died of brain cancer.
By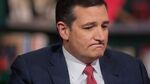 Republican presidential candidate Ted Cruz apologized Wednesday for making a joke about Vice President Joe Biden while the the vice president prepares to bury his son Beau.
"It was a mistake to use an old joke about Joe Biden during his time of grief, and I sincerely apologize," the Texas senator wrote on Facebook. "The loss of his son is heartbreaking and tragic, and our prayers are very much with the Vice President and his family."
According to the Detroit News, Cruz recycled one of his Biden jokes at an event in Michigan on Wednesday:
"Vice President Joe Biden," the Texas senator said to faint laughter among 650 Republicans packed in a Howell banquet hall Wednesday. "You know the nice thing? You don't need a punch line."

"I promise you it works," Cruz added. "The next party you're at, just walk up to someone and say, 'Vice President Joe Biden' and just close your mouth. They will crack up laughing."
Biden's son died Saturday of brain cancer at age 46. The vice president is in Delaware Thursday for a service honoring his son, the former state attorney general, at Legislative Hall in Dover, according to the White House. A viewing is set for Friday in Wilmington, followed by a burial on Saturday where President Barack Obama will deliver a eulogy.