Republican Rick Perry Makes 2016 Presidential Campaign Official
The onetime front-runner is now an underdog polling in the single digits.
By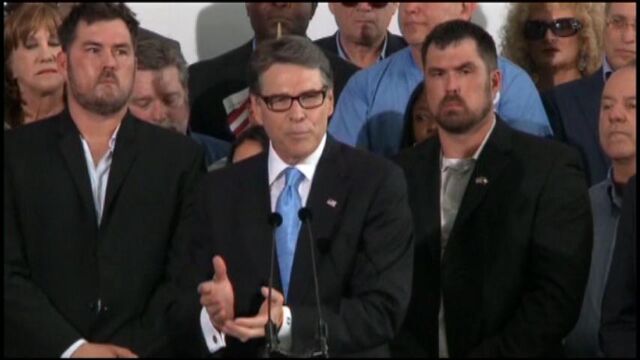 Former Texas Governor Rick Perry on Thursday announced his second bid for the U.S. presidency, betting that his state's economic record, his military experience, and his retail political talents will help him break out of a crowded field and convince Republican voters to overlook the blunders that ended his campaign last cycle.
Perry vowed to steer the nation away from President Barack Obama's economic and foreign policies, stressed his humble beginnings on a cotton farm in Texas, and struck a populist tone by telling unemployed Americans, including those on food stamps, that "you are not forgotten."
"It is time to create real jobs, to raise wages, to create opportunity for all, to give every citizen a stake in this country," Perry said to a boiling-hot airport hangar full of supporters in Addison, a northern suburb of Dallas. "It's time to reset the relationship between government and citizen."

Joining him on stage was an array of military veterans, with Navy SEAL brothers Morgan and Marcus Luttrell, the author of Lone Survivor, positioned prominently.
Perry, 65, has been visiting early nominating states, including Iowa and New Hampshire, to tout his record as Texas governor from 2000 to January 2015. He assumed the governorship as President George W. Bush resigned to become U.S. president, winning reelection three times by double-digit margins to become the longest-serving governor in Texas history.
His greatest challenge is convincing primary voters that he's no longer the candidate who, in a November 2011 debate, forgot the name of one of the three federal agencies he wanted to eliminate as president. That moment was one of a number of blunders, including comparing Social Security to a "Ponzi scheme," and helped to undermine his candidacy. He dropped out after finishing fifth in the Iowa caucuses and before the critical primary contest in South Carolina, where he had announced his candidacy and where he'd been betting on a strong performance.
Unlike in 2012, when he briefly led in some polls, Perry is now an underdog, polling in the single digits in a crowded field.
Perry has spent the past three years boning up on foreign and domestic policy and assembling a network of advisers and donors. He's drawing contrasts with the competition by highlighting his record presiding over a booming Texas economy that was a bright spot during the Great Recession. He's also a military veteran and someone, his advisers argue, who can appeal to both the Tea Party and establishment Republicans.

Perry spoke against a backdrop of a C-130, the type of plane he flew during missions to Europe and the Middle East while serving as a U.S. Air Force captain from 1972 to 1977. He surrounded himself with fellow veterans in trying to break through in the crowded 2016 field. Including Senator Lindsey Graham of South Carolina, he is one of few candidates with military experience. Joining him on stage were veterans including retired World War II Navy pilot Jack Holder, who survived the bombing of Pearl Harbor; a medal of honor recipient; and Taya Kyle, widow of Chris Kyle, the most lethal sniper in U.S. history who authored American Sniper.
It is his military experience, along with his record as governor, that sets him apart, Perry is arguing. He took subtle digs at some of his competition, echoing what he's been saying in pre-campaign appearances.
"Leadership is not a speech on the Senate floor, it's not what you say, it's what you have done,'' Perry said in distinguishing himself from Marco Rubio of Florida, Rand Paul of Kentucky, and Ted Cruz of Texas, all of whom are first-term senators.
It's a distinction that also plays to his party's dissatisfaction with Obama, who, like those three competitors, served just a few years as a U.S. senator before his 2008 election. Perry accused Obama of failing to "secure the peace" in Iraq by drawing down troops in 2009 due to a "campaign pledge."
Much of Perry's candidacy will hinge on whether voters credit him for his state's strong job creation record. While most states suffered anemic growth over the past decade, Texas's oil and natural gas resources buffered it from the national downturn.
Between January 2005, before the financial crisis, and January 2015, as Perry left office, the state picked up 2.1 million new jobs, a 22 percent increase. That compares to a national growth rate of less than 1 percent over the same time period.
Perry's argument is that he can do for the country what he did for Texas. "We were the engine of growth," said Perry. "It can be done because it has been done in Texas."
According to the nonpartisan Factcheck.org, Perry's claim that Texas created 40 percent of all the jobs in America is true. Even so, the unemployment rate still increased because those gains didn't keep pace with population growth—Texas' population grew by 20.6 percent from 2000 to 2010.
Yet Perry is facing obvious challenges to making his case to the more blue collar voters he is targeting with his economic message. Texas is also tied with Mississippi for the highest percentage of hourly workers paid at or below the minimum wage, a fact that Perry's critics frequently note. And, while his speech was rich with direct appeals to struggling Americans, his prescriptions appeared similar to past Republican presidential candidates, including reducing regulations on companies and lowering corporate taxes without addressing stagnant wages directly.
Perry is competing for campaign talent and donors with two others with ties to Texas—Cruz and former Florida Governor Jeb Bush, who hasn't yet officially announced.
His campaign will also operate under a cloud of indictment. Texans for Public Justice, a left-leaning government watchdog group, filed a complaint in 2013 after Perry threatened and then vetoed state funding for public corruption prosecutors.
The indictments, brought in 2014 by a Travis County grand jury, allege that Perry abused the powers of his office by threatening to veto funding for the state's public integrity unit unless the county district attorney, Rosemary Lehmberg, who had pleaded guilty to drunken driving, resigned.
Perry says that he acted appropriately, that most Americans believe he did nothing wrong, and that the case won't affect his candidacy.
The bigger shadow will be that of his last campaign.
After failing to remember the name of the federal agency he wanted to eliminate, Perry just said  "oops," a moment that went viral and made him the butt of late-night comedy. During the same debate, he gave a rambling and incoherent criticism of eventual nominee Mitt Romney's inconsistent positions on immigration and social issues. He also rankled conservatives who criticized his immigration policy by calling them "heartless."
Perry's aides say he wasn't prepared at the time and blamed his poor performance in part on pain medication he was taking after back surgery. Yet the ghosts of his last bid were apparent. Even supporters like Margo Price of Greenville, a 50-year-old administrative assistant who stood in 90 degree Texas heat to cheer Perry on, say they have concerns.
"He had trouble debating, that's going to be his biggest challenge," she said. But he's "got some of the highest integrity of anyone and he's done a lot for Texas," she said in explaining her support.
Perry, a Democrat in his early life and political career, is the son of ranchers from the small town of Paint Creek, Texas. It's a biography that may be an asset as many of the Republican hopefuls try to appeal to economically struggling white working-class voters.
He entered the Air Force after graduating from Texas A&M University in 1972. He was elected to the Texas state House as a Democrat in 1984 and supported Democrat Al Gore in the 1988 Democratic presidential primaries. Perry made a reputation as a fiscal conservative who opposed tax increases and switched parties in 1989 just before he was elected as the state's agriculture commissioner. In the past, he's compared his conversion to that of other onetime Democrats who felt the party was moving too far to the left, including Ronald Reagan, who went on to become one of the nation's most popular Republican presidents.
Perry served in the commissioner role until he was elected lieutenant governor in 1998. Perry and his wife, Anita, his childhood sweetheart whom he's known since elementary school, have two grown children, Griffin and Sydney.