Welcome to My Crib
How a traditional family furniture company got into $7,500 baby beds for stars—and parents who want to raise kids like they're famous
By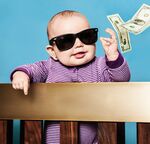 At Bel Bambini, a nursery boutique in West Hollywood, Calif., a transparent acrylic crib rests prominently in the center of the showroom. It's the Vetro, a $4,500 ghost of a baby bed, which the store started stocking in 2011. Since then, Bel Bambini has sold more than 350 of them to wealthy parents—or their interior designers—most of whom saw it in tabloids or on reality TV after celebrities such as Robert Downey Jr., Beyoncé, and Kim Kardashian procured one for their offspring. (With the exception of Kardashian, the stars paid full price.) "You can always tell when a new celebrity gets it," says Ahzahdeh Neshat, the store's manager. "Suddenly, all these customers call and say, 'I want the clear crib.' "
The crib is made by Nursery Works, a high-end brand owned by L.A.-based Million Dollar Baby. The company, despite its name, has manufactured mostly inexpensive children's furnishings since 1990, when co-founder Daniel Fong began making the Jenny Lind, a classic $99 crib with a frame of carved wooden spindles. "That was the most popular style at the time," Fong says, so he needed to find a way to differentiate: Instead of shipping premade models from East Asia, MDB imported the wooden parts and assembled them to U.S. safety standards using better-quality domestic hardware and mattresses. Then he sold his Chinese-American hybrids to specialty stores. "I could tell the consumer, 'This crib has the same hardware as Child Craft and Simmons, but it costs half the price,' " he says. "That's my story."
For a decade that story held. The Jenny Lind became a top seller, and Fong decided to branch into slightly more expensive offerings. In 2000 he introduced the DaVinci brand, which was less basic. Then came Franklin & Ben, inspired by "turn-of-the-century" motifs. The various MDB lines were pretty much identical in price and style until the mid-aughts, when Fong's two children, Tracy and Teddy, graduated from Harvard and were wooed back west to join the family business. One of the kids' earliest hires was Tiffany Wong, Teddy's wife, who was brought on as marketing director to make the lines distinct from each other. Meanwhile, Tracy persuaded her dad to sell $200 cribs, $700 gliding chairs, and $900 dressers online at Amazon.com and Walmart.com. And Teddy went about building new lines, including the European-inspired Babyletto and Nursery Works, the luxury brand, which MDB acquired in 2010. In 2007 the first year after Fong's children joined, revenue more than tripled, to $35 million. Last year, it reached $50 million.

That constant stream of income gives the company freedom to focus on Nursery Works, which accounts for only 5 percent of MDB's sales but is considered by the family to be the company's greatest opportunity. Nicely made, nonimport children's furniture has struggled in the past decade. In 2014 alone, several midrange lines, including Kid Brands and Muniré, which makes sophisticated styles, filed for Chapter 11 protection. Others, including Stanley Furniture, stopped producing kids' pieces made of wood.
It's manufacturers like MDB—with dependable Chinese factories, flat-pack shipping, and cheap, disposable models—that first drew consumers away from artisanal, high-end furnishings for tykes. And yet Nursery Works is hoping to find profit in that exact sector, which its parent company blew wide open in terms of competition. As very rich babies such as North West, Blue Ivy, and Kate Middleton's royal spawn become stars in their own right to an unprecedented degree, it's a smart time to go upscale.
"When Nursery Works was first acquired, the promise of the brand was to showcase our ability to design," Wong says of the purchase for an undisclosed sum from Bexco Enterprises. The goal, she says, is "to elevate our current MDB brands while serving a different segment of the market."
The latest batch of Nursery Works cribs caters to wealthy parents with its U.S. manufacturing, mostly from L.A. woodshops. Instead of selling the cribs online, Nursery Works relies on less traditional channels, including interior designers, modern furniture stores, and even art galleries. "We were interested in filling the gap in nursery for people who purchase a Poliform couch or a really special art piece," Wong says. (Before she started working on the cribs, she was an assistant to Steve Jobs.)
In June the company will release a model called the Gradient, a $7,500 oval-shaped bed framed by undulating slats of solid maple that Bel Bambini's Neshat predicts will become a best-seller among stars, then trickle down to her clients. The family is also releasing the Lydian, a $6,900 black-walnut model with a 24-karat gold frame adorning the front. For customers who are feeling frugal, there's Highlight, a $3,900 option that can transform into a grownup's desk once baby graduates. To design the cribs, the executive team works with Eric Lin, who is Tracy's husband and a trained architect, and Matthew Grayson, a product designer from the Art Center College of Design. "We have all the manufacturing capabilities and financial backing to change the industry," Teddy says.

Neither Tracy nor Teddy planned to join the family business. After graduating from college in 2004, Tracy took the summer off to hang out with friends before starting a job as an art curator. But her father's office was short-staffed, so he asked her to pick up the slack. After a month of making Starbucks runs for the six other employees, she started cold-calling some of MDB's customers. The product reviews were good, she discovered, but the company had zero brand recognition. A salesperson by nature, she persuaded companies such as Target and Babies "R" Us to stock the cribs online and then market them through their Web and e-mail channels. "People were like, 'You're crazy—no one's going to buy furniture on the Internet,' " Tracy says. "And I'm thinking, I just sold a million dollars online." At 34, she's now the vice president for sales. Teddy came onboard in 2006, setting aside a career in finance, after he also realized his dad's company had growth potential. "I was looking at innovative furniture for the home, and it stopped at the children's room—nothing was happening there," says Teddy, 32, who shares the title of chief executive officer with his father.
It's relatively easy to make a splash in a niche dominated by traditional furniture in white and dark brown. Along with Nursery Works, MDB has also been influential in introducing cribs in colors like canary yellow and robin's-egg blue. The company's recent, more substantive changes have been harder to pull off in an industry governed by stringent child-safety rules. "You have to innovate within a box," Teddy says, "because the testing is so rigorous." MDB gets every style certified by the Juvenile Products Manufacturers Association and tested at third-party labs approved by the Consumer Product Safety Commission at a cost of about $2,000 per round. Nursery Works had to remake the Gradient at least five times because its assembly stymied some testers.
The team has plans for other complicated cribs, including one with a base that doubles as a play tunnel and another with a foldout teepee. They will introduce increasingly outlandish concepts carefully and slowly, when they deem consumers are receptive. For those who can't afford a crib, Nursery Works will also introduce a line of organic-cotton bedding ($38-$145) and folded-paper animal busts ($45) in June. Josh Johnston, MDB's specialty sales manager and one of Teddy's closest friends from Harvard, thinks of this the way a luxury fashion brand might. "Very few people have the monetary means to purchase a Chanel dress, at least responsibly," he says. "But you can go out and buy Chanel perfume." Maybe not for your baby, though.
Before it's here, it's on the Bloomberg Terminal.
LEARN MORE