IMF Urges Fed to Postpone Rate Liftoff to First Half of 2016
Kasia Klimasinska and Andrew Mayeda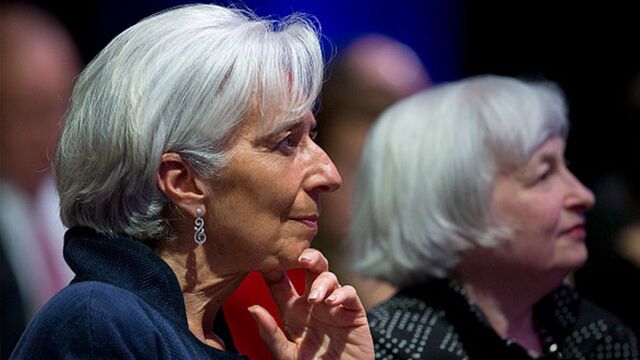 The International Monetary Fund waded into the debate over when the Federal Reserve should raise interest rates, calling on the central bank to wait until the first half of 2016 and cutting its U.S. growth forecast for the second time this year.
The lender also said that the dollar was "moderately overvalued" and a further marked appreciation would be "harmful," in a statement released in Washington on Thursday on its annual checkup of the U.S. economy.
"We still believe that the underpinnings for continued expansion are in place," IMF Managing Director Christine Lagarde said at a press briefing in Washington. "The inflation rate is not progressing at a rate that would warrant, without risk, a rate hike in the next few months."
That means the Fed should wait until early 2016, even if there's a risk of "slight overinflation" relative to the central bank's 2 percent target, Lagarde said.
The lender's call for caution comes as two Fed governors, Daniel Tarullo and Lael Brainard, cast doubt on the strength of the U.S. recovery from a first-quarter contraction. Both officials questioned whether the slump could be written off as the result of temporary effects including harsh winter weather.
Disappointing consumer and business spending this year raise questions about whether the U.S. has "lost momentum in the underlying performance in the economy," Tarullo said Thursday at a conference in New York.
"There is value to watchful waiting while additional data help clarify the economy's underlying momentum," Brainard said on Tuesday in Washington.
Stronger Dollar
A stronger dollar, declining oil investment and a West Coast port strike in the first quarter will pull down U.S. growth to 2.5 percent this year, said the fund, which previously projected the world's largest economy to expand by 3.1 percent in 2015. Economists surveyed by Bloomberg also expect U.S. growth of 2.5 percent this year.
Lagarde also spoke about the debt standoff between Greece and its creditors including the IMF, saying a joint proposal from the creditors this week "has clearly demonstrated significant flexibility."
Greek Payment
She noted that Greek Prime Minister Alexis Tsipras indicated that the nation would make a $339 million payment to the IMF due Friday; after Lagarde spoke, Greece told the IMF it would exercise an option to delay Friday's payment and bundle it with three others into a lump sum on June 30.
Fed spokeswoman Michelle Smith declined to comment on the IMF's rate recommendation.
Fed Chair Janet Yellen on May 22 said she still expects to increase interest rates this year if the economy meets her forecasts. The Fed, which hasn't raised rates since 2006, will need to see continued improvement in the labor market and be "reasonably confident" that inflation will move back to 2 percent, she said.
Investors currently expect the Fed to move in December, according to bets placed in interest-rate futures markets.
The Fed's policy-setting committee "should remain data dependent and defer its first increase in policy rates until there are greater signs of wage or price inflation than are currently evident," the IMF said in its statement. Based on the fund's economic forecast, and "barring upside surprises to growth and inflation, this would put lift-off into the first half of 2016."
Blunt Advice
The fund's latest U.S. monetary-policy advice is among its most explicit on record. In 2012, for instance, IMF staff suggested that further easing might be warranted if the outlook worsened, while in the crisis of 2008 they said rates "should stay on hold" until a recovery is established.
"The IMF is making a pronouncement on the Fed because the U.S. economy is still so important to the globe," said Joe LaVorgna, chief U.S. economist at Deutsche Bank Securities Inc. in New York, who expects a September rate increase. "The question is: Will the Fed listen and does it have any bearing on monetary policy decision-making? And my guess is no."
The strengthening dollar and global disinflationary trends will probably weaken inflation pressures, according to the IMF.
Inflation Gauge
The personal consumption expenditures price index, the Fed's preferred inflation measure, increased 0.1 percent in April from a year earlier, marking the smallest 12-month gain since 2009, according to government figures.
"A sudden acceleration in wages or prices is unlikely," the IMF said in the 10-page statement.
The fund's advice to the Fed comes amid a global bond slump in recent weeks that's sent rates on 10-year U.S. Treasuries and German bonds surging, as investors turn against record-low yields and react to an acceleration in Europe's economy.
While Lagarde is saying the Fed should be guided by the latest economic reports, "you can't be data dependent and then give a specific time frame" for raising rates, said Aneta Markowska, New York-based chief U.S. economist at Societe Generale SA.
Bigger Outflows
The risk of delaying rate increases is that they may need to be steeper, and markets "could re-price valuations in a more disorderly fashion," Markowska said. "That could trigger even bigger outflows out of the emerging world."
The dollar, which rose 13 percent in real effective terms over the past 12 months, is "moderately overvalued" and is hurting U.S. growth and hiring, the fund said.
"There is a risk that a further marked appreciation of the dollar -- particularly one that takes place in an environment where policies to address growth deficiencies languish both in the U.S. and abroad -- would be harmful."
The report also discussed financial stability, with the IMF pointing to higher risks in shadow banking, a potential lack of liquidity in fixed-income markets, and greater market risk-taking in the insurance industry.