Euro Bears Second-Guess Parity Calls as Inflation Begins to Stir
Anchalee Worrachate and Lucy Meakin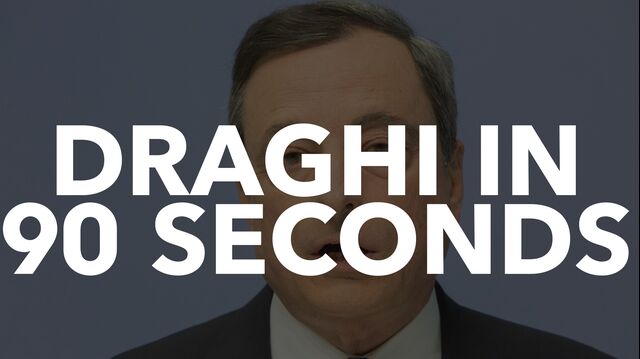 With inflation back on the agenda, euro bears are losing faith in their predictions for the single currency to fall to parity -- or beyond -- with the dollar.
While the euro has tumbled on Friday, it's still up 1.2 percent this week at $1.1122 after a rally that included the biggest two-day gain since 2009 and accelerated when European Central Bank President Mario Draghi said price growth was returning to the economy. Rabobank Group and Mizuho Financial Group Inc. boosted their year-end forecasts this week to $1.06 and $1.11, from previous estimates of $1.05.
"We've become less bearish on the euro," said Nick Parsons, London-based head of research at National Australia Bank Ltd., which raised its year-end estimate to $1.03 about three weeks ago after previously forecasting parity. "There are clear signs that economic activity and inflation are picking up. Short positions against the euro have been very stretched."
Draghi's comments on Wednesday, a day after a euro-zone inflation report showed the first price increases in six months, sparked a jump in the region's bond yields that boosted demand for its currency. The news also re-opened the debate as to whether the ECB will abandon the record stimulus that has caused the euro to weaken 19 percent in the past year.
'Unrealistically Pessimistic'
"What we're getting is an unwind of expectations that were unrealistically pessimistic at the beginning of the year," said Steven Englander, global head of Group-of-10 currency strategy at Citigroup Inc. in New York. "I don't think it necessarily means the end of euro weakness. They still have a need to stimulate their economy. They may need the weaker currency as a crutch."
The world's biggest currency trader raised its year-end euro forecast to parity in late-April, from 93 U.S. cents previously.
The euro has climbed from a 12-year low of $1.0458 on March 16. Until then, it had been dropping almost continuously since May last year and at one point had weakened 25 percent versus the dollar. The exchange rate touched an almost three-week high of $1.1380 on Thursday amid a volatile few days for global markets.
The euro has, in fact, shown the biggest jump in anticipated price swings in the G-10 this year after Denmark's krone. Implied three-month volatility climbed to 11.8 percent on Friday. That's approaching the almost three-year-high closing level of 12 percent set on March 31.
Wells Fargo & Co. lifted its December forecast for the euro to $1.08 last month, after predicting a drop to parity earlier in the year.
"The latest inflation data was positive for the first time in months," said Eric Viloria, a foreign-exchange strategist at the company in New York. "That helped to push German yields higher and provided support for the euro."