business
Carlyle's Youngkin Feels Short Next to Blackstone's 'Wizards'
David Carey and Erik Schatzker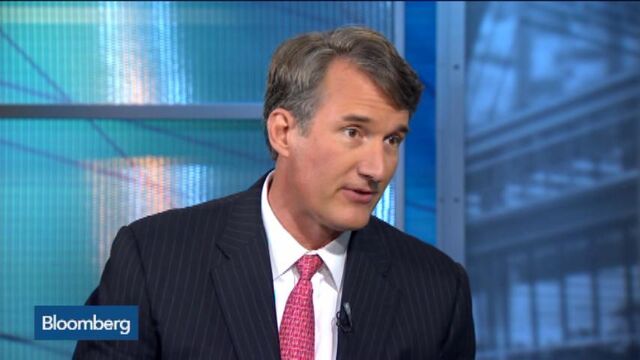 What's it like competing for real-estate assets with Blackstone Group LP, the world's largest property investor? Hard enough to make a tall man feel like he's up against a pro basketball team.
"Our competitors at Blackstone have a wonderful real-estate business, they're very much the standard of the industry," Glenn Youngkin, Carlyle Group Inc.'s president, said in an interview on Bloomberg Television. "I'm 6'6" and when I'm standing next to my kids I look really tall. When I'm standing next to the Washington Wizards I look short.''
Carlyle, which oversees $193 billion in assets, has trailed Blackstone in diversifying beyond private equity, an ambition of 65-year-old co-founder David Rubenstein since the 1990s. Real assets, including property and energy, accounted for about 6 percent of Carlyle's total segment revenue last quarter, while private equity's share approached 75 percent. By comparison, Blackstone, the largest manager of alternative assets, got 36 percent from property investing alone.
Blackstone in April cemented its dominance in real estate with an agreement to buy GE real estate assets valued at $23 billion in a joint deal with Wells Fargo & Co., the largest real estate transaction since the financial crisis.
Youngkin said the performance of his firm's real estate funds, while they're still young, has been "really good," with gains of 11 percent from real estate in the first quarter.
'Catch Up'
"We've been in private equity for 28 years, and some of these other businesses are reasonably new," Youngkin said. "We'll eventually catch up."
Carlyle's dependence on traditional buyouts has hurt its stock, relative to its bigger rival. Carlyle's shares have gained 39 percent in the past three years, compared with 267 percent for Blackstone.
Carlyle, led by co-founders Bill Conway, Dan D'Aniello and Rubenstein, has more recently been hit by the plunge in oil prices and redemptions at one of its hedge funds. Rubenstein said in March the firm is ready to deploy money in energy, betting that oil has bottomed.
Youngkin said few opportunities to make equity investments in cash-strapped energy producers have materialized so far and predicted more will arise if oil prices stabilize. Carlyle in March raised a $2.5 billion international energy fund, adding to the growing pool of private capital that's waiting to be deployed in the beleaguered industry.
"Everybody concluded it's the opportunity of a lifetime," Youngkin said about oil's more than 50 percent price plunge. Instead, money raised from debt market and other sources has "relieved a lot of the stress" and lessened the immediate need for cash injections from private equity investors, he said.
As oil prices rebounded, he added, the gap has narrowed between investors' perceptions of asset values and those of sellers.
"The bid-ask spreads are tighter, and I fully expect there to be a meaningful amount of energy investing that happens," he said.
Before it's here, it's on the Bloomberg Terminal.
LEARN MORE