Wealthy Women on Display
Wednesday Martin embeds with the country's richest, meanest ladies who lunch
By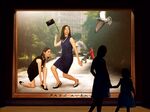 One day, shortly after moving to Manhattan's Upper East Side, Wednesday Martin was walking home with a carton of milk when an elegantly dressed older woman came barreling toward her on the empty sidewalk. Martin inched closer to the curb to get out of her way, but the woman kept bearing down until Martin found herself pressed against a trash can. Then the woman smacked right into Martin with her gigantic designer handbag, smirking as she passed. "I had been charged," Martin says, as if the woman was a rhinoceros. "At least that's how it felt to the anthropologist in me."
Martin shares this incident in Primates of Park Avenue, a breezy book about her life after relocating with her family to one of the most expensive ZIP codes in the country. Right away, the neighborhood revealed itself as a toxic jungle. Martin was immersed in an ultracompetitive, opulent mommy culture, a scene so repellent, it's hard to imagine why anyone would choose to live there.
At first you want to root for Martin, a Midwesterner who studied anthropology in college and applies the language of Margaret Mead to the women around her with entertaining effect. The trouble is that everything she describes is so over-the-top, it comes off more as satire than memoir. The way Martin portrays them, these women—who are largely well-educated and married to Wall Street moguls—have no redeeming qualities.
"Aside from a shrinking water hole in the Serengeti during the dry season," she says, "there is no place more desperate, aggressive, dangerous, and inhospitable than the halls of an exclusive Manhattan private school." The women click-clacking through each morning are "Mean Girl Moms," micromanaging their privileged children and elbowing each other out of the way. Martin says she cried regularly because they were so nasty. Now she returns the favor: She describes their almost entirely dead-animal-based fashions—Céline, Chanel, or Hermès bags, Jimmy Choo boots, leather dresses, and chinchilla coats—in lavish detail, along with their obsessive focus on perfect homes and bodies. The women jockey for "yearend bonuses" from their husbands so they can buy more furs or tables at charity dinners. But like everything else in the book, the detail is thrown off so casually and anonymously that it's hard to assess how real it is.
Martin also never explains how she ended up "moving on up" herself, making only vague references to her husband, who finances their lifestyle. (A quick Google search reveals that he's head of a "Cayman Island-based investment fund," typically code for a hedge fund.) She bemoans the abundance all around her—"everything was so honeyed and moneyed and immaculate that it made me dizzy"—but quickly loses perspective. She claims she was so disorganized that she missed nursery-school deadlines, yet her son magically gets into the best one in the city. "I have no idea why my son was admitted," Martin says, though she acknowledges her husband's sister might have made a call. It soon becomes clear that Martin isn't the outsider she claims to be; she's become one of these women herself.
Still, she's tapped into something provocative and she knows it. Even though few people live like this, there's an appetite for stories about rich women behaving badly, driven by some combination of voyeurism, misogyny, and class rage. It fuels shows like The Real Housewives and Gossip Girl, and goes all the way back to Edith Wharton and Marie Antoinette. Martin has studied the genre well: Just when the moms become overly unlikable, she assures us they have problems, too. For one, they worry about being dumped by billionaire husbands, on whom they're entirely dependent. "Access to your husband's money might feel good," Martin writes, channeling Gloria Steinem. But "such access can't buy you the power you get by being the one who earns it." To cope, the women pop antidepressants and glug down white wine. These women swinging their Birkin bags are miserable and should be pitied.
By the end, all you can think is, Move, for God's sake. Anyone who chooses to be here deserves what she gets. Apparently Martin came to the same conclusion—to be closer to the kids' new private school, her family relocated to another, almost as wealthy, part of town.
Before it's here, it's on the Bloomberg Terminal.
LEARN MORE