Bernie Sanders: Let's Spend $5.5 Billion to Employ 1 Million Young People
The Democratic candidate goes big on big government in a visit to the "Harvard of the Hood" in the nation's capital.
By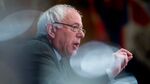 The Employ Young Americans Now Act is the sort of legislation that would have struggled even in a Democratic Congress. In a Capitol controlled by Republicans, it might as well propose taxing churches to pay for sex reassignment surgeries on a moon base. The legislation, introduced by Michigan Representative John Conyers, would create a $5.5 billion fund, $4 billion earmarked for the employment of people between 16 and 24, $1.5 billion for job training grants. There are no pay-fors. It would ask a Congress that is dead-set against "big government" to employ people, with the help of big government.
Yet the bill's Senate sponsor is Vermont's Bernie Sanders. That matters quite a lot in June 2015. On Thursday morning, Sanders joined Conyers on a visit to the H.O.P.E. Project in southeast Washington. The presidential candidate toured a small but busy office, located above a strip mall, that had successfully trained 375 people in the IT field, and seen 315 of those people get jobs that paid an average of $42,000—far above the median income locally. Ninety-three percent of graduates were African-American, and when Sanders entered a computer room—pausing to greet every student—the only white faces belonged to journalists and staffers. The room was crowded with TV cameras and iPhones, some pointed at four words on the wall: "HARVARD OF THE HOOD."
"In America now we spend nearly $200 billion on public safety, including $70 billion on correctional facilities each and every year," said Sanders from the front of the room. "So, let me be very clear: in my view it makes a lot more sense to invest in jobs, in job training, and in education than spending incredible amounts of money on jails and law enforcement."
Sanders got darker, decrying the size of America's prison population, imagining a world in which people got jobs instead of jail sentences." According to the NAACP, from 1980 to 2008, the number of people incarcerated in America quadrupled from roughly 500,000 to 2.3 million people," he said. "If current trends continue, one in three black males born today can expect to spend time in prison during his lifetime. This is an unspeakable tragedy."

After Sanders finished, and after Conyers said the candidate was "even better as a senator" than as a congressman, H.O.P.E. founder Raymond Bell introduced "superstar" program graduates.
"I've gotten a lot from this program," said Phyllis Ussery, a 24-year old who went from the program to an unnamed IT job that paid $60,000. "You have a bunch of people that are no longer standing outside, getting in to trouble. They're trying to succeed in life. They're trying to get ahead."
Sanders beamed as she told her story. "This is what we need," he said. "We don't need more people in jail—we need more people getting jobs."
The Vermont senator does not have this turf to himself for 2016. Kentucky Senator Rand Paul has assiduously campaigned in black neighborhoods, in churches, colleges, and community centers, telling voters that he wanted to keep more black men out of jail. Paul goes on to tell black voters that he wants low-tax or tax-free zones drawn around their communities, to light a fire for enterprise. Sanders was taking the opposite approach: There would be enterprise when the government invested in young people.
After Sanders and Conyers left for the Capitol, Bell told Bloomberg that the $5.5 billion idea would only work if it was managed correctly, from the feds down to the job trainers.
"The mayor said the city spends $100 million on job training," he said. "I didn't know that until she came down here and held a press conference about it! A lot of that goes to the vendors." Not surprisingly, he saw the path to success as the path trod by H.O.P.E.
"Anything we do has to be performance-based," Bell said. "This is nothing new, and everybody knows that. Other job training programs, they hate us, because we set that bar so high."