SoundCloud Strikes Deal With 20,000 Labels. Can It Help Any of Them Make Money?
Free music streaming services, Taylor Swift's bane, aren't all equal
By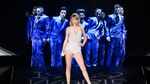 The debate about whether streaming music services are good or bad for musicians has always belied a more complicated reality. Each streaming service is different, with its own patterns of use and its own economics. No service is quite as different as SoundCloud, which draws far more monthly users than Spotify or Pandora but has confounded the music industry by lagging in developing a viable way to help labels make money from its 180 million users.