U.S. Undercover Tactics Go on Trial in Foreign Bribery Case
The prosecution of American executive Joseph Sigelman tests aggressive Justice Department methods
By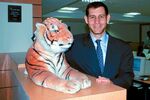 The Justice Department's aggressive use of undercover tactics in foreign bribery cases will be tested this month with the criminal prosecution of Joseph Sigelman, an outsourcing wunderkind accused of paying off a Colombian oil industry official. Lawyers made opening arguments on Tuesday. 
Federal prosecutors allege that Sigelman, who in the early 2000s won fame and fortune with a back-office logistics business in India, later tried to get a Colombian oil services startup aloft by bribing an official with Ecopetrol, the Colombian national oil company. Charged with violating the Foreign Corrupt Practices Act (FCPA), the main U.S. federal law against overseas bribery, Sigelman denies that he saw the $330,500 payment as a bribe, or even that he understood that the recipient worked directly for Ecopetrol.
The 43-year-old American entrepreneur also denies a separate federal charge that he arranged to receive $400,000 in kickbacks in connection with an acquisition by PetroTiger, the oil-services company he started in 2008 and worked for as co-chief executive officer until he was fired by the board in 2011. 
Apart from the timeless fascination of a rise-and-fall tale whose protagonist achieves great wealth but then allegedly overreaches, the Sigelman case offers the Justice Department an opportunity to redeem itself in enforcing the FCPA. The prosecution getting under way in a Camden, N.J., courtroom, close to where PetroTiger once had its U.S. business address, will be the first FCPA case to go to trial since the collapse in 2012 of what was known as the Africa Sting prosecution. In that case, federal prosecutors originally charged 22 gun-industry executives with conspiring to bribe FBI informants that they allegedly thought represented the government of Gabon in a small-arms deal. Almost all the charges in the Africa Sting prosecution eventually fell apart.
As in the failed gun industry case, the Justice Department relied in the Sigelman investigation on aggressive undercover methods more familiar in probes of violent organized crime and terrorism. If prosecutors again fail to make the FCPA charges stick, the Justice Department would have to rethink its strategy of seeking to use confidential informants and secret recordings when trying to nail executives at U.S. companies for allegedly seeking to bribe foreign officials for business. Like most criminal statutes, the FCPA itself doesn't include operating instructions; prosecutors have wide discretion on whether to employ aggressive undercover tactics.
Yesterday's opening arguments confirmed that the government's case against Sigelman relies heavily on the testimony of the defendant's former lawyer. Under pressure from the FBI, the lawyer, Gregory Weisman, implicated Sigelman in wrongdoing and then tried to get his former client to incriminate himself during a covertly recorded conversation.
Lead prosecutor Patrick Stokes, who heads the Justice Department's FCPA unit, told the jury in his opening remarks that Weisman's testimony—supplemented by surveillance tape of the witness's encounter with Sigelman in December 2012—would demonstrate that the defendant knew he had broken the law and was afraid of getting caught. At one point during the December 2012 conversation, Sigelman demanded that Weisman lift his shirt to show he wasn't wearing a wire. Weisman complied. Sigelman didn't notice, however, that the FBI had equipped his former attorney with a "button camera" that captured the entire episode.
Sigelman's behavior, Stokes told the jury, was "something an innocent man doesn't do."
In fact, when viewed in its entirety, the grainy undercover tape is ambiguous. When Weisman informed Sigelman that the FBI was asking questions about their actions in Colombia, Sigelman said: "Whatever this is about, I'm ready to be with you."
"And I'm with you, but I'm extremely scared," Weisman responded.
"I don't think there's anything to be concerned about," Sigelman said. "We paid a guy. We paid a consultant. ... The point is, this wasn't a bribe in any way, shape, or form."
In his opening argument yesterday, Sigelman's defense attorney, William Burck, a partner with the law firm Quinn Emanuel Urquhart & Sullivan, told the jury: "We want you to see that tape." Burck indicated that in cross-examining government witnesses, he would show jurors that in its zeal to find corruption, the Justice Department has transformed a series of corporate and personal entanglements into a criminal conspiracy that never existed. If anyone was truly trying to fight corruption at PetroTiger, it was Sigelman, the defense lawyer said. Resentful of Sigelman's finger-pointing, the company's board turned the tables and fed information to U.S. prosecutors, making the ex-CEO out to be the villain, Burck added.  
Weisman cooperated with the FBI because he had committed wrongdoing of his own and wanted to shift blame to Sigelman and strike a plea deal, Burck said. Weisman and Sigelman's former co-CEO at PetroTiger have pleaded guilty to reduced corruption charges in exchange for leniency, and both are expected to testify. If convicted, Sigelman could face years in prison. It may be several weeks before the 12-member jury has a chance to decide whom it believes.