Tsipras Turns to Party Hand Tsakalotos to End Talks Impasse
Maria Petrakis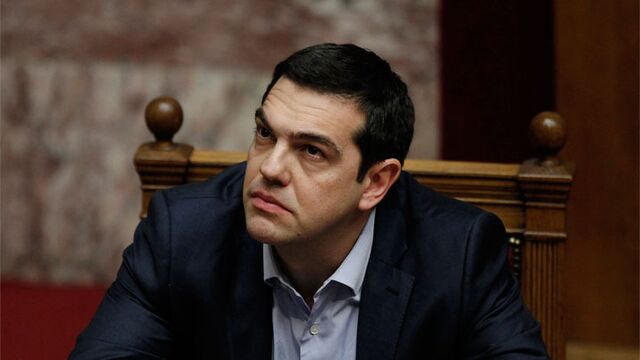 Greek Prime Minister Alexis Tsipras heads into talks to break a stalemate over a financial lifeline in Brussels on Wednesday surrounded by trusted party hands, chief among them Euclid Tsakalotos.
The Oxford-educated economist and Greek deputy foreign minister was asked in April to step into the shoes of Finance Minister Yanis Varoufakis in day-to-day debt negotiations as Tsipras moved to defuse the acrimony building up with creditors.
As sparring and missed deadlines to decide the fate of Greece enter a fifth month, Tsipras needs someone by his side who's as acceptable to creditors as he is to party hardliners because the next stage of the battle to avoid financial collapse will likely be fought in Athens.
"Tsakalotos is now, at least on paper, the guy in charge of the negotiations with the creditors," said Wolfango Piccoli, managing director at Teneo Intelligence in London. "It's also useful for the prime minister to have him in Brussels in relation to the next big challenge: selling the deal to the party."
Tsipras said he will press creditors to be realistic about what his country can accept. After European leaders and the head of the International Monetary Fund huddled late into the night in Berlin on Monday, creditors agreed on a new document designed to avert a default. Greece has four payments due to the IMF in June while its existing bailout expires this month.
Tsipras, who put forward his own plan, is slated to meet European Commission President Jean-Claude Juncker on Wednesday evening.
Red Lines
"I will explain to Juncker that today, more than ever, it's necessary that the institutions and the political leadership of Europe move forward to realism," Tsipras said in a broadcast statement in Athens before traveling to Brussels.
The latest twists put the onus on Tsipras's anti-austerity government to shelve some election promises or jeopardize the country's euro status.

Sticking points in the talks have included budget measures, pension reforms and changes to Greece's labor laws, with Tsipras's Syriza party talking about red lines.
Some members of the party have been critical of the backtracking on promises that brought Tsipras to power.
John Milios, a member of the Syriza central committee, wrote and tweeted a few days ago that "the Syriza government did not come to power supporting 70 percent of the Memorandum. If Syriza had pledged so, it would probably not be included in the parliamentary map today, playing the key role."
Tough Compromise
A compromise on any of Syriza's red lines would need to be sold to the party by someone who has its trust. That's where Tsakalotos might come in.
The veteran party member knows how to tailor his message to his audience. In front of an Irish audience in March, Tsakalotos started his speech by apologizing for his English accent and ended with a standing ovation. With investors in London in February, he was seen as down-to-earth and easy to talk to.
The soft-spoken, low-key Tsakalotos couldn't be more different from Varoufakis, who shot to global attention after sauntering to a meeting with U.K. Chancellor of the Exchequer George Osborne in an untucked shirt. The finance minister drew criticism from his euro-area counterparts during a meeting in Riga, Latvia on April 24 for not being adequately rigorous.
Unlike Varoufakis, who has only been a member of Syriza since just before the elections, Tsakalotos has been with the party since 2004. He was first elected to parliament in May 2012 and re-elected in January after Tsipras's anti-bailout rhetoric resonated with a Greek electorate weary of five years of austerity in return for 240 billion euros of loans.
Not Special
Born in Rotterdam in 1960, Tsakalotos moved with his family to London at a young age. He studied at Oxford and Sussex before getting a PhD from Oxford in 1989. He taught at the University of Kent and then moved to Greece to do his army service. He joined the Athens University of Economics and Business in 1994.
Like Varoufakis, he has published a number of books with the most recent being: "The Crucible of Resistance: Greece, the Eurozone and the World Economic Crisis."
The book, written with Christos Laskos, features a review by Varoufakis, who calls it "a clarion warning that the strangling of Greece is symptomatic of the fragmentation of a Europe based on a particular neoliberal settlement, which is now in its death throes."
In March, Tsakalotos spoke to thunderous applause at a conference held by Sinn Fein, the Irish party opposed to budget cuts. That's where he apologized for his English accent and offered the fact he was married to a Celt, Scottish economist Heather Gibson, as a mitigating factor.
"Some European governments will be arguing that we should not give Greeks special treatment," Tsakalotos told the Sinn Fein audience. "Greece has had the biggest per capita fiscal adjustment of any economy since the crisis began, hardly special treatment, especially when you consider the bailout was more to serve northern banks than southern peoples."
Read this next: