South Africa Says $10 Million Soccer Payment 'Above Board'
Palesa Vuyolwethu Tshandu, Lutho Mtongana and Franz Wild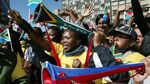 A $10 million payment to the Caribbean Football Union was "above board" and "does not equate to bribery," South African Sports Minister Fikile Mbalula said.
Rejecting the accusation contained in a U.S. indictment, Mbalula said the money was allocated to the fund as part of South Africa's campaign to host the 2010 soccer World Cup and support the African diaspora. The bid was backed by South Africa's first black president, Nelson Mandela, whose clan name is Madiba, and Bishop Desmond Tutu, he said.
"We won the bid clean," Mbalula told reporters in Johannesburg on Wednesday. "We had our Madiba, we had the bishop, we had the spirit of our people, we had the world. After all, it was Africa's time."
U.S. prosecutors allege that the bid was won after South Africa bribed Jack Warner, the longtime head of the Caribbean, Central and North American soccer confederation known as Concacaf. They say South Africa asked FIFA to redirect $10 million to accounts controlled by Warner.
Mbalula said the payment was made to meet its commitment to aid soccer development in the diaspora.
FIFA President Sepp Blatter on Tuesday said he'd step down after his administration was plunged into its worst crisis following the announcement of criminal investigations.
Blatter 'Friend'
"Sepp Blatter has been a good friend of South Africa," Mbalula said, noting the significant role he'd played to ensure the World Cup would be held in Africa.
South Africa won't be caught up in a fight between U.S. authorities and FIFA, he said.
"It's for the British and the Americans to fight their battles; we're not part of the vested interests," Mbalula said. "We've fought colonialism and defeated it, and we're still fighting imperialism and we will fight it whenever it manifests itself."
Officials of the South African Football Association didn't attend Wednesday's press conference after previously saying they would.