Nissan's Ghosn Seeking Big U.S. Market Share Gains in 22 Months
David Welch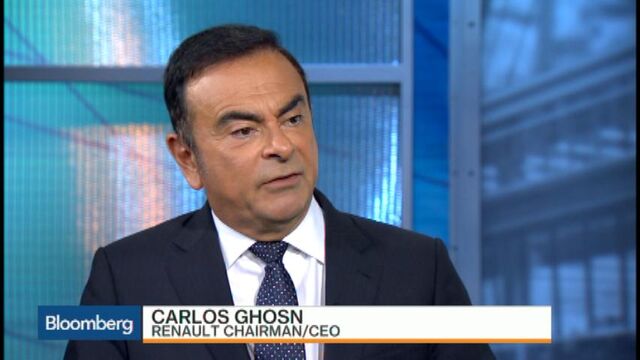 In the last five years, Nissan Motor Co. Chief Executive Officer Carlos Ghosn has barely made a dent in his goal to grab 10 percent of the U.S. car market by the end of fiscal 2016. He's sticking to the target.
Ghosn said Nissan will ride sales growth from the new Maxima sports sedan, Rogue crossover sport utility vehicle and several other models to get from 8.4 percent of the market today to 10 percent by March 31, 2017. That's a big ask considering that Nissan had 8.2 percent of the market in 2011, the year he set the goal.
Ghosn's audacious target is unusual in an industry that talks more about chasing fatter car prices and margins than big sales numbers. The old General Motors Corp. famously aimed to get 29 percent of the U.S. market in the early 2000s, only to fall below 20 percent within the decade.
"With the lineup we have, I think we deserve more market share," Ghosn said Wednesday in an interview at Bloomberg's headquarters in New York. "We're not chasing market share. We're looking for reasonable market share from the investments we're making."
Ghosn's reason for optimism stems in part from the fact that his company is the No. 1 automaker in neighboring Mexico, where it has 26 percent market share. Also, Nissan is giving the Altima sedan and Sentra compact a face-lift this year in addition to the Maxima that went on sale Wednesday. A new Titan full-size pickup is also coming.
Ghosn sees growth in crossover SUVs like the Rogue and said he can import more from Japan to meet demand.
Not Crazy
Ghosn's target is aggressive and will be difficult to hit, but it's not crazy, said Larry Dominique, executive vice president for automotive pricing website TrueCar.com.
The new Titan pickup will offer several engine options, including a diesel, that should lure more truck buyers, said Dominique, who used to be vice president of product planning at Nissan North America. Also, the Rogue is so popular that Nissan could gain market share if the company expands production, he said.
"It will be challenging," Dominique said in a phone interview. "But if they are going to gain a lot of market share, it will be in the next 18 to 24 months. The Titan will be key."
The trouble is, Ghosn isn't alone with new vehicles coming to market, said John Wolkonowicz, an independent automotive analyst in Boston.
'Other Competitors'
"Good luck," Wolkonowicz said in a phone interview. "He's sort of forgetting that there are other competitors with new products."
Nissan is at risk of losing share by 2019, according to a study released Wednesday by Bank of America. From model year 2016 to 2019, Nissan will be replacing 73 percent of its current lineup, less than the industry average of 80 percent. Analyst John Murphy said Honda Motor Co. has the highest replacement rate at 96 percent, while Hyundai Motor Co. and Kia Motors Corp. have the lowest, 70 percent.
In fairness, Nissan has gained market share. The company's stake in the U.S. market rose from 8 percent in 2013 to 8.4 percent last year and it's at 8.7 percent through May, according to researcher Autodata Corp.
Nissan, based in Yokohama, Japan, is also raising its spending more on rebates and incentives this year faster than many competitors, according to Autodata's estimates. The company raised discounts by 23 percent this year to an average of $3,152 a car. Only GM and Fiat Chrysler Automobiles NV spend more in the U.S., according to Autodata.
"The question is whether they can gain market share in a healthy way," said Dominique.