Johnson's London Garden Bridge Plans Rejected by Assembly
Eddie Buckle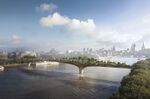 Mayor Boris Johnson's plans for a Garden Bridge over the River Thames in the center of the U.K. capital were rejected by the London Assembly, the elected body that holds the mayor to account.
The 25-strong assembly voted by 11 to 3 to ask the mayor to carry out a full audit of the project and to withhold a pledged 30 million pounds ($46 million) in funding for the plan from Transport for London, the authority that runs the city's streets, buses and Underground rail network. The bridge "serves no transport function," the assembly said in a statement.

The pedestrian bridge, designed by Thomas Heatherwick, would be 366 meters (1,200 feet) long and connect Temple on the north side of the Thames to the South Bank. The bridge would include a public space and freely accessible garden as well as 270 trees, and remain open from 6 a.m. to midnight. The U.K. Treasury has also pledged 30 million pounds to the estimated 175 million-pound cost, with the remainder made up of private donations.
"It is wholly inappropriate to spend 30 million pounds of TfL funds on what is essentially a tourist attraction which offers little in terms of actual infrastructure," Labour Party Assembly member Val Shawcross said in the statement. "This is money which should be allocated to genuine transport projects, including building river crossings where they are actually needed, such as in east London."