Inside the Charm School for NFL Rookies
The newest crop of football players start learning to please sponsors and avoid fumbling endorsement dollars
By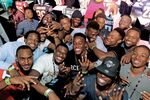 Forty-one of the National Football League's best rookie players are on their feet in a ballroom at the JW Marriott Los Angeles hotel. It's been a month since the draft, when they learned where they would be working for their first jobs out of college. The regular season doesn't begin until September, but teams have already begun training. These players—the most celebrated of their draft class, including the two quarterbacks selected first and second, Jameis Winston of the Tampa Bay Buccaneers and Marcus Mariota of the Tennessee Titans—have been excused for a training camp of a different kind: a four-day introduction to the business of football. 
Former NFL linebacker Don Davis, now player advocate for the NFL Players Association, stands at the front of the room to deliver a pep talk. 
"So we are a what?" he asks.
"Family," the players reply on cue and in unison.
"And we are here on what?"
"Business."  
"And the one thing that businesses do?" 
"Make money." 

The NFLPA Rookie Premiere, as the annual gathering is known, began as a photo shoot in 1993. Upper Deck, the trading card maker, wanted images of newly drafted players, in uniform and on a field, to use on cards printed before the season began. With the help of the union, the company gathered about a dozen players in Los Angeles. The following year the union established a for-profit subsidiary, NFL Players Inc. (NFLPI), to sell group marketing rights for players. The union and its new sales wing decided to turn the preseason photo op into an event to showcase its newest players—and to educate them about moneymaking opportunities off the field. The first official Rookie Premiere came a year later, in 1995.
Any company that wants to use the names, likenesses, numbers, or signatures of six or more NFL players in its product or ads has to go through NFLPI. A player's agent can line up individual deals with any brand, but once that brand signs more than five players, it needs group rights as well. The NFL and its owners control the rights to team names, logos, and uniforms. Leaguewide sponsors such as FedEx and PepsiCo get group rights to both players and teams through an agreement between the NFL and the union. Licensees, such as EA Sports and its popular Madden NFL video game, buy player and league rights separately.
NFLPI logged $145 million in revenue last year from about 30 sponsors and 80 licensees, says President Ahmad Nassar. The total is up nearly 50 percent from six years ago, when Nassar arrived. That's still puny next to the league's $12 billion in annual revenue, mostly from sales of TV rights. NFLPI aims to grow by pitching itself to marketers as a one-stop shop for players. The Rookie Premiere is the first chance for companies to get access to the newest crop of potential stars in one place. 
First, though, the union spends a morning building solidarity and advising the rookies on how not to blow their chance to rake endorsement dollars. "I want everyone in this room to get more out of this business than this business gets out of them," DeMaurice Smith, executive director of the NFLPA, tells them during his opening remarks. Davis, during his pep talk, asks the players to be professional, to show up on time, sign what they are asked to sign, and do what they are asked to do. He tells them the story of a player from the year before who had to be roused, "buck naked, laid out, sprawled out," from his bed. "The last dude we had to do this for was JaMarcus Russell," he tells them, invoking the name of the famous Raiders quarterback bust, the top pick of the 2007 draft who washed out of the league after three seasons.
At a media training session, Davis conducts mock interviews that veer quickly from softball to gotcha: "How is camp going so far? Who is the leader on the team? Would you have a problem playing with a gay teammate?" In another session, players get simulated letters informing them that they've been suspended for failing the league's recreational drug testing or that their "girlfriend Boo-Boo" has filed a domestic violence charge. When it comes to sponsorship opportunities, says George Hegamin, another former player who now works for the union, "a lot of this is what you do and what you don't do off the field."

Trading card makers, Topps and Panini America, still play a major role at Rookie Premiere. They help select the invitees, with a focus on players "who are going to be collectible," says Jason Howarth, vice president for marketing at Panini. That means mostly quarterbacks, running backs, and wide receivers. Brett Hundley, a quarterback taken with the 147th pick by the Green Bay Packers, is at the event. Brandon Scherff, an offensive lineman selected fifth overall by the Washington Redskins, is not.
Winston, Mariota, and Karlos Williams, a running back for the Buffalo Bills, spend time sitting in a conference room signing stacks of trading cards and sheets of plastic film. Errrybody by Yo Gotti blares from speakers to help keep their energy up. On Saturday, the third day of the premiere, the players head to the Los Angeles Memorial Coliseum, put on helmets, pads, and jerseys, and strike poses for the cameras. These pictures will be on cards for the next few months. "We will have released seven or eight products before they even step on a field for real on a Sunday," says Howarth.
The trading card signing sessions are just two of the 15 "content capture" activities for the rookies that take up two days inside the hotel. The rotations are part-grind, part-gravy train. In one room, players put on bright green, orange, and purple T-shirts and strike poses for a FedEx digital marketing campaign. Two doors down at EA Sports, each sits in front of a 12-camera rig that captures their faces for rendering in the Madden NFL game. Fanatics, the company that runs the league's official online apparel shop, takes pictures of them in team hoodies and t-shirts and then videotapes brief interviews about their superstitions and favorite foods. Samsung gives each a free Galaxy S6 smartphone. Elevée, a clothing company, fits them for free suits. The companies pay an undisclosed fee to set up shop at the hotel, and NFLPI pays each player to hit all the stops.

It's not hard labor. There's a lounge with video games, ping-pong, and pool tables, and a free barber shop. On Thursday night, Nike hosts them at the nearby Conga Room to unveil their game jerseys for the first time. Still, the players endure about 20 hours of pushy demands and repetitive questions: "This time a little nod, like, hey man, what's up." "Mouth slightly open, eyes closed." "Look at the camera and say 'It's not just holiday season, it's Madden season.' " "Sign your autograph in the air." "Who is your biggest influence?"
"It's not some four-day island where they just come out to L.A. and have fun and enjoy the weather," says Nassar. "It's a work trip."
In the fall, the union will send each of its 2,000 active members a check for about $13,000, their equal share of the year's NFLPI bounty. An additional $60 million gets paid out over the course of the year to individual players based on the sales of jerseys and other items linked to them. Last year, Nassar tells the rookies, Russell Wilson made almost $1.5 million from NFLPI, roughly double the quarterback's $817,302 salary from the Seattle Seahawks. The union uses the rest of NFLPI revenue, about $60 million, for its operating budget. 
All of this is news to the rookies. "I've learned multiple things from you handle yourself in the media," says Mariota, "to how you financially take care of yourself. And, on the other side of it, how the NFLPA has learned to take care of us as players." 

NFLPI says video games, mostly EA's Madden franchise, account for $35 million of its revenue. Trading cards and other collectibles bring in $33 million. Apparel brands, led by Nike, add $21.5 million. And $55 million comes from sponsors. Nassar, Smith, and Steven Scebelo, NFLPI vice president of licensing and business development, are working to spread their business beyond the normal categories. NFL players' names, faces, and numbers can now be found on gummy candy, plush toys, mobile video games, plastic figurines, ugly holiday sweaters, and socks.
NFLPI-licensed products generate $1.34 billion in annual sales, according to License! Global magazine. That's 46th among licensors worldwide, between Sunkist Growers and Coca-Cola. The NFL ranks 16th, with $3.5 billion in sales. Scebelo says his goal over the next five years is to reach $2 billion in sales and crack the top 25 worldwide. 
"All these big Fortune 500 companies knew to call us," says Nassar. "Now we're talking about not even Fortune 2,000 or 20,000, we're talking about two dudes in a garage." Frequently, says Smith, when a company wants to include players in their marketing, the first call goes to the NFL. "And typically that call ends with a click," he says, "because if the league doesn't hear a two-digit number before the million, they're not interested." 
One the 15 stops for the players at the hotel is an on-camera interview with NFLPI. The idea is to compile a catalogue for potential commercial partners. If a company is looking to sell pet products, for instance, NFLPI can point them to players who love animals. "What is your dream endorsement?" the interviewer asks Oakland Raiders wide receiver Amari Cooper. "It was Nike," Cooper replies, "but I got that." 
"What else?"
"Rolex would be nice."
"Why?"
"I love Rolex watches," Cooper says, "but I don't know if I want to spend money on jewelry like that. So I would love to get a deal."
Before it's here, it's on the Bloomberg Terminal.
LEARN MORE