Startups See Dollars in China's Young and Lonely
Cultural pressure to marry spurs the growth of dating apps
Liza Lin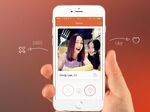 Jack Zhai spends his evenings in Shenzhen swiping through photos of single women on Tantan, a mobile phone app that works like Tinder in the U.S. When he spots someone he fancies—women who he says show "spunk and character"—he clicks a heart-shaped button. The 25-year-old industrial designer, who moved to Shenzhen last July, then awaits responses to his chat requests. It's an easy way to make friends in a strange city, Zhai says, one that he hopes will end in a lasting relationship.
As China's worsening male-to-female ratio leads men of marrying age toward a demographic crisis, IResearch predicts online dating in China will generate about 10 billion yuan ($1.6 billion) in annual sales by the end of 2016, up 17 percent from 2014. While there have been doubts about the ability of U.S.-based makers of apps such as Tinder and Hinge to get customers to pay for relationship help, China's Internet entrepreneurs think they'll have an easier time.
"I don't think it's hard to make money from this at all," says Wang Yu, co-founder and chief executive officer of Tantan, who doesn't plan to charge until the year-old app has 10 million users, from 2 million now. Marriage is a cultural given across the mainland. "It's what the Chinese consider a 'rigid need' that they can't escape from," he says. "Users are very willing to pay for a higher chance of succeeding."
German media company Bertelsmann, an early investor in digital media provider Audible, which was later acquired by Amazon.com, pumped $5 million into Tantan this year. Early Apple backer Sequoia Capital and Vertex Venture Holdings, a unit of Singapore sovereign wealth fund Temasek Holdings, have invested $20.5 million in Qingchifan, another dating app.
The newbies are hoping to re-create the success of Momo, which has 69 million users and was China's most downloaded dating app in the first three months of 2015, according to TalkingData, which tracks mobile app usage. Alibaba Group-backed Momo raised $216 million from an initial public offering in December.
Beijing-based Tantan, which translates to "scouting around" in Chinese, targets users age 20 to 26 who typically are fresh out of college or about to graduate. In China, such young people often move to a new city for their first jobs and must establish local social contacts from scratch. The dating service plans eventually to charge users for ways to make their profiles more prominent.
Qingchifan, which means "my treat" and lets its 10 million registered users offer one-on-one lunch or dinner invitations, is a step ahead. Members who pay to post their invites—fees normally range from 5 yuan to 180 yuan—get them posted with an icon that displays a score for the potential dinner host's "reliability" to show up for the date, based in part on how much they paid for the listing, says the app's founder, Liu Gangqiang. The average age of male users is 26; for females it's 23, Liu says.
Because of the Chinese one-child policy and a traditional preference for sons, there will be more than six potential grooms in China for every five unmarried women by 2050, says the United Nations Population Fund. By then the proportion of single men at age 50 would increase to 11 percent, from 3 percent in 2012.
"There are many more men than women and a lower chance for men to find a suitable partner," says Gloria Chan, a professor at City University of Hong Kong who studies youth behavior. "If you add the longer hours Chinese work these days, it leaves even less time for social interaction."
Tantan CEO Wang, a Swedish-trained engineer who previously worked for Ericsson in Stockholm, expects more users to think like Zhai, who says he'd consider paying as much as 5 yuan a month if the app began charging. Although modest, such a fee could potentially yield 50 million yuan in monthly revenue if Tantan hits its target of 10 million users, Wang says.
Still, relationship sites have natural limits. When they succeed in helping members hook up, their usage either drops or members cancel their subscriptions altogether, says Michelle Ma, a Bloomberg Intelligence analyst in Hong Kong. "The industry has been growing over the years, but they will not grow as big as other social networking areas," she says. "The limitation is that people will leave after they find their partners."
The bottom line: In China, the success of Momo, a dating site with 69 million members, is attracting rivals.
Before it's here, it's on the Bloomberg Terminal.
LEARN MORE