Hillary Clinton to Call for 20 Days of Early Voting Nationwide
Democrats argue that restrictions unfairly target minorities.
By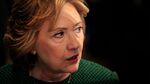 Hillary Clinton will call Thursday for a national standard of at least 20 days of early in-person voting and for states to include nights and weekends in their extended voting hours, her campaign said Wednesday.
Clinton will also call on Congress to act quickly to reverse a 2013 Supreme Court ruling allowing nine southern states to change their voting laws without federal approval, and for the adoption of recommendations put forward last year by President Barack Obama's bipartisan commission on election administration.
Her comments will come in a speech at Texas Southern University in Houston honoring the late Barbara Jordan, a Democratic U.S. representative and civil rights activist.
Clinton and other Democrats argue that Republicans are trying to make it harder for minorities to vote, since they're more likely to cast ballots for Democrats.
In her speech Thursday, Clinton is expected to call out Republican efforts to rein in early voting, including steps taken by North Carolina, Texas, and Wisconsin that created more obstacles for some people to vote, the campaign said. She will also note that early voting can help alleviate long lines at the polls, an issue that's been particularly problematic in Florida in recent cycles.
About 20 million voters took advantage of early voting in 2014. Fourteen states do not allow early voting in any form.
Clinton's speech comes after her campaign's top lawyer filed lawsuits challenging voting laws in Ohio and Wisconsin on behalf of Democratic groups. Her campaign has said that the lawyer, Marc Elias, is not acting on its behalf but that it is supportive of the actions he's taking on behalf of other clients.
Clinton is also using her Texas swing to attend $2,700 per person fundraisers in Dallas, San Antonio, Austin, and Houston.