Ex-Im Renewal Gives Wall Street 'Wet Kiss,' Hensarling Says
Kathleen Miller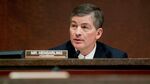 Democrats backing reauthorization of the Export-Import Bank are giving Wall Street a "big, wet kiss," a House committee leader who wants to kill the bank told Ex-Im Chairman Fred Hochberg at a hearing Wednesday.
"Big banks profit off Ex-Im like few others," said House Financial Services Chairman Jeb Hensarling, a Texas Republican and one of the staunchest opponents of extending the bank's charter when it expires June 30. JPMorgan Chase & Co. has benefited from more than $5.1 billion in assistance from the bank, he said.
Hochberg rejected arguments from Republicans that the bank is providing corporate welfare by financing foreign companies' purchases of U.S. goods. Ex-Im has returned $675 million to the U.S. Treasury for deficit reduction in 2014, he said.
"Our customers pay fees and interest for this service; as a result Ex-Im is completely self-sustaining," Hochberg said at the hearing in Washington. "If Ex-Im bank is not reauthorized, we no longer generate a half a billion dollars for the taxpayers."
Once renewed regularly without controversy, Ex-Im has become a target of conservative Republicans who say it benefits only a few large corporations that don't need government assistance. The bank provides loans, guarantees and insurance to aid purchases of U.S. goods by foreign companies.
Ex-Im's Future
The bank's future may rest in the House, where Speaker John Boehner of Ohio hasn't said whether he'll allow a vote on reauthorizing it.
Senate Majority Leader Mitch McConnell, a Kentucky Republican who also opposes the bank, agreed to hold a vote in June as part of a deal to advance trade legislation last month.
Senator Maria Cantwell, a Washington Democrat, urged her chamber's Republican leaders to identify legislation to which they can attach an extension of the bank's charter that could pass before June 30. Cantwell led an effort last month to attach a reauthorization to trade legislation, dropping that demand after McConnell reiterated his commitment to holding a vote on Ex-Im.
Boehner said in May that the House would be allowed to "work its will" on Ex-Im. He also has promised an open-ended amendment process if the Senate sent a bill to the House. That might allow opponents to kill or weaken any Senate legislation that would extend the bank's charter.
'Playing Games'
Representative Maxine Waters of California, the top Democrat on the committee, accused Hensarling of "playing games" with the bank's future and praised Tennessee Republican Stephen Fincher for "having the courage" to sponsor a bill to extend its charter.
Fincher, a member of the House Financial Services Committee, said it has been tough to battle Hensarling on Ex-Im's future.
"It's been very difficult on me having a disagreement with the chairman," Fincher said during the hearing. He voted against reauthorizing the bank in 2012, and said his current support stems from the 164,000 jobs, including 8,300 in Tennessee, tied to the institution last year.
He urged Hensarling to let the committee vote on extending Ex-Im's charter.
"Allow us to have our day, allow us to have our say and if we lose, then the bank won't be reauthorized," Fincher said to Hensarling during the hearing.
Enough Support
Republican and Democratic backers of the bank say there is enough support in Congress to pass legislation to reauthorize it, if lawmakers are allowed to vote.
Missouri Republican Senator Roy Blunt, a bank supporter who formerly served as House Republicans' chief vote-counter, last month predicted reauthorization would succeed if it came to a vote.
"There are enough votes in the House to pass Ex-Im if it gets voted on in the House and there are enough votes here to pass Ex-Im if it gets voted on in the Senate," Blunt said.
Representative Frank Lucas of Oklahoma urged fellow Republicans to push to improve the Ex-Im bank now because he thinks its charter will ultimately be extended.
"I sincerely believe that whether it is 14 days or 14 weeks or 14 months, this institution will be reauthorized," Lucas, a member of the Republican team that counts votes in the House, said during Wednesday's hearing.
House Democrats
Representative Steny Hoyer of Maryland, the second-ranking House Democrat, said Tuesday that almost all, if not all, of the 188 House Democrats and at least 60 Republicans would support extending the bank's charter. That's more than the 217 votes required to pass the legislation.
Hensarling has said a government-run bank shouldn't be picking winners and losers by deciding which deals to finance.
"By reauthorizing Ex-Im, my Democratic colleagues are simply throwing Wall Street a big, wet kiss," Hensarling said Wednesday.
JP Morgan and other private sector banks will provide financing for some of the loans arranged by Ex-Im, which then guarantees those loans in case there is a default, according to Ex-Im's website.
Some companies, such as Delta Air Lines Inc., are fighting an extension of the bank's charter.
'Competitive Disadvantage'
Richard Hirst, Delta's chief legal officer, said the financing the bank provides to overseas airlines puts Delta at a "competitive disadvantage."
Delta has 80,000 employees, and one of them lives in the state of every member of the House Financial Services panel, he said. "Their jobs should be considered as important as the jobs of every other American," Hirst said.
Five public U.S. companies -- General Electric Co., Boeing Co., Caterpillar Inc. and units of General Dynamics Corp. and United Technologies Corp. -- had overseas customers who received about $10 billion in loan authorizations or long-term guarantees from the bank last year.
Hensarling acknowledged his party is split about the bank's future.
"I do understand one person's corporate welfare and politically driven capital allocation is another person's vital export support program and level playing field," he said during the hearing. Still, he said he doesn't understand Democrats' support for the bank.
"They claim Ex-Im is essential to supporting jobs," the Texas Republican said, noting that many Democrats oppose building the Keystone pipeline, which the State Department has said would create thousands of jobs during its construction.