BofA Explains How the Bond Rout Could Turn Into a Bloodbath
Lisa Abramowicz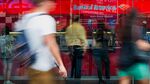 (Bloomberg) -- The good news is investors are finally shaking off fears of economic stagnation worldwide. The bad news is this is brutal for credit markets.
Prices on U.S. investment-grade bonds have fallen 1.1 percent in the first two days of June, a pace so fast it's reminiscent of the notes' 5 percent selloff in two months in 2013 when speculation emerged that the Federal Reserve was poised to scale back its bond buying. Bank of America Corp. strategists see the pain deepening from here.
The reason? Investors who like these bonds tend to prize safety and reliable returns above all. They plowed into corporate bonds, often instead of more-creditworthy notes such as U.S. Treasuries, for higher yields as the Fed purchased debt and held interest rates at record lows to ignite growth.
These buyers, in particular, don't like to see losses on their monthly mutual-fund statements. When the prospects for their debt look shaky, they've often responded by yanking their money. And that's what they'll likely do now, according to Bank of America analysts.
"We expect high-grade fund flows to turn generally negative in line with the initial experience during the Taper Tantrum," Hans Mikkelsen, a strategist in New York, wrote in a June 2 report. "Corporate bond prices are declining at a pace eerily similar to what we saw" during that selloff of 2013.
Fund Flows
That year, U.S. bond funds reported record withdrawals as investors girded for a period of steadily rising debt yields -- or, in other words, losses. Investors pulled more than $70 billion from bond mutual funds in 2013, according to TrimTabs Investment Research.
Of course, the exodus proved premature. Top-rated corporate bonds have returned 7.6 percent since the end of 2013 as oil prices plunged and European Central Bank stimulus sent yields down globally.
Now, however, there are signs that the American economy is finally improving enough for the Fed to raise rates as soon as this year. Yields on 10-year Treasuries are approaching the highest since November, making them a more attractive alternative to corporate debt for buyers looking for the safest source of income.
Yield Rise
Inflation in Europe is rising more than economists expected, too, causing investors to re-think how smart it is to pay for the privilege of lending to Germany and Belgium. As the region's yields spike upward, those in the U.S. are following suit.
So how bad will this next chapter be for investment-grade bonds be? It depends on how quickly benchmark yields rise, Bank of America analysts say. If 10-year Treasury yields climb to 2.6 percent in the next two weeks from 2.34 percent as of 11:24 a.m. in New York, outflows from top-rated corporate bonds may rival those seen during the taper tantrum, they said.
Yields on the benchmark debt have already climbed more than 0.2 percentage point this week, so, corporate-bond buyers, be forewarned.
To contact the reporter on this story: Lisa Abramowicz in New York at labramowicz@bloomberg.net
To contact the editors responsible for this story: Caroline Salas Gage at csalas1@bloomberg.net David Papadopoulos