Blatter Remains the 'Same Sepp' in Swiss Mountain Town of Birth
Jeffrey Vögeli and Jan Schwalbe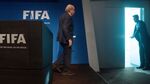 In the small Swiss mountain town of Visp, one thing is for certain: Sepp Blatter is as important to his birthplace Wednesday as he was Tuesday, when the most powerful man in global soccer said he planned to resign amid a spreading corruption scandal.
"He is still the same Sepp to us," said Niklaus Furger, the mayor of Visp, a two-hour train ride from Zurich, in a telephone interview. "He was born and raised in Visp and is one of us. Nothing has changed."
Blatter surprised the soccer-watching world when he resigned after 17 years at the helm of FIFA, just days after winning a fifth term as president of the sport's world governing body. U.S. prosecutors are looking into Blatter as part of their sweeping corruption probe that resulted last week in a 47-count indictment against FIFA executives and other soccer figures, people familiar with the investigation say.
At sports bar Napoleon, proprietor and Blatter son-in-law Dominik Andenmatten, said the decision to step down was better for FIFA and their family in the end.
Blatter can "still achieve things, change a few things," Andenmatten said, standing behind the bar, "The investigations are a waste of time."
Born Joseph Blatter 79 years ago, the executive has remained faithful to his hometown. He helped organize the 100-year gala soccer game for FC Visp, the local club of which he remains an honorary member, the mayor said. The team welcomed stars including Brazil's Ronaldo for the match.
Unfortunate Affair
"Blatter was the face of the Valais, everyone was proud of him," said Maurice Mueller, a retired journalist, speaking of the Swiss canton where Visp is located. The town sits where the Rhone River intersects with the valley running down from Zermatt, the ski resort at the foot of the Matterhorn. "The whole affair is unfortunate."
Blatter joined FIFA as a technical officer in 1975, before rising to the top post in 1998. During that time, he witnessed 10 World Cups on five continents over four decades. His $1 billion-a-year empire began to unravel last week as Swiss police, acting on U.S. extradition requests, roused senior officials from their hotel beds in Zurich.
Blatter said Tuesday that he would resign. It emerged earlier in the day that FIFA's No. 2 official under him authorized a $10 million payment that a prosecutor characterized as a bribe. U.S. prosecutors say that person was Jerome Valcke, a person familiar with the matter said. Neither Valcke nor other senior management were involved in the "initiation, approval and implementation" of the payment, FIFA said in a statement Tuesday.
Major Misgivings
"I think his achievements are not getting enough credit," said Norbert Hildbrand, an employee of Lonza AG, a drug manufacturer that is the town's biggest employer, while having lunch with his colleagues. "He turned FIFA into a financially sound organization."
The younger generation on the other hand, was slightly less forgiving.
"It's good he stepped down," said Venetz Martin, a teenager heading back to school after his lunch break. "I have major misgivings about the whole organization."
Back at the Napoleon, people weren't so sure.
"The media have passed judgment prematurely," said an emotional Hans Amherd, sitting at a table outside, rising to defend Blatter. "Everyone is innocent until proven guilty."