White House Says 'Caitlyn Jenner Has Shown Tremendous Courage'
President Obama doesn't mind that Jenner bested his Twitter record, the president's spokesman says.
By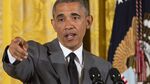 President Barack Obama respects Caitlyn Jenner's courage and doesn't mind that she bested him on Twitter, the president's spokesman said Tuesday.
Jenner, a reality TV star and Olympic gold medalist, came out as a transgender woman in an April ABC News special. She used male pronouns and the first name Bruce until declaring her preferred name and pronoun in a cover story in Vanity Fair that was released Monday.
"The president does believe that Caitlyn Jenner has shown tremendous courage" and that "that's worthy of our respect," White House spokesman Josh Earnest said. 
The president was not bothered that Jenner's new Twitter account had accumulated one million followers in just over four hours on Monday, faster than the previous record set when Obama opened a new Twitter account last month, Earnest added.
The president "enjoyed holding the distinction while it lasted," Earnest said.
In the ABC interview, Jenner said she was glad Obama had spoken about transgender people in his State of the Union address, but that she was a Republican and had "just never been a big fan" of the president.
—Margaret Talev contributed reporting.