These New Petrobras Bonds Tell You a Lot About the State of Markets
Those century bonds sold by Petrobras have plenty to say
By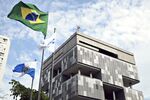 Petrobras, the scandal-ridden, junk-rated, state-controlled Brazilian oil producer, surprised markets to sell $2.5bn worth of bonds with a 100-year maturity on Monday. 
Here's what what the unusual debt sale can tell us about markets.
Investors are still craving returns - The new Petrobras debt sold like hot cakes thanks to the juicy returns on offer. Bloomberg reports that the company issued the bonds to yield 8.45 percent -- that's far higher than Mexico's 100-year bonds, which are trading at a yield of 5.59 percent or 30-year U.S. Treasuries yielding 2.94 per cent. But that 8.45 percent yield was also 0.4 percentage point less than the price guidance provided by the deal's bankers. That means investors demanded less yield to buy the Petrobras bonds than the bankers initially expected. Yields on a whole bunch of financial securities remain at historic lows, with the Barclays US corporate high-yield option adjusted spread, a standard gauge for the premium investors are demanding in return for holding junk-rated U.S. corporate debt, still stuck at a relatively low 4.28 percent.

Investors are willing to overlook big risks in the market - That 8.45 percent yield needs to be big enough to compensate investors in the new Petrobras bonds for some pretty big risks. The long-duration of the bonds themselves means investors will have to assume standard bond risks -- such as the risk of interest rates moving higher -- for  a whopping 100 years. Petrobras's future is also heavily-linked to the direction of oil prices, which is by no means certain. Then there's the status of the company itself. Just a few months ago, Petrobras was locked out of global debt markets thanks to a massive corruption scandal. As Joseph Cotterill at the Financial Times points out, the Lava Javo investigation  is mentioned a full seven times in the bonds' prospectus. Meanwhile, Brazil is exhuming the body of the congressman at the center of the bribery scandal to make sure he's actually dead. That's some pretty morbid -- and pretty hefty -- political risk to add to uncertainty over rates and oil. The below chart shows recent oil prices.

There's not enough debt to go around to meet demand from investors' - Despite those risk factors, investors placed more than $7 billion worth of orders for Petrobras's new century-long bonds. Even though sales of corporate bonds have gone through the roof in recent years as companies seek to take advantage of low interest rates and yield-hungry investors, demand is still far outstripping supply. Long bonds are especially in demand since they help pension funds and insurers match their long-dated liabilities. This chart, from analysts at Citigroup, shows net supply of financial market securities in the aftermath of central bank bond-buying programs that have seen whole chunks of the debt market taken out of circulation.

But long-bonds have a history of coinciding with a market tops - Century-long bonds have been issued by companies including French utility EDF, JC Penney and Coca-Cola as well as countries such as Mexico and China. But the debt has a history of occasionally coinciding with tops in the bond market. The century bonds sold by the Philippines in 1996 and 1997 were issued just before the start of the Asian financial crisis, for instance, while Disney's debt arrived shortly before 1994's massive bear market in U.S. Treasuries. The below table, published by Bond Market Vigilantes back in 2010, shows what happened to the original century bonds that were issued by U.S. corporates back in the 1990s.