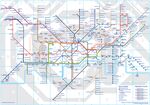 The London Tube has updated its iconic map, and insofar as CityMetric from the New Statesman is a barometer of local opinion, Londoners aren't impressed. Jonn Elledge writes that the design principles that made Harry Beck's original map so endearing and elegant "are being horrifically badly applied" in the new version, and wonders whether it's time to scrap the whole concept and start anew. His review in a word—"Euch":
So what purpose does the tube map actually serve? It doesn't show only the best services. It doesn't show all the best services. It isn't even easy to read. And it is, these days, remarkably ugly. So what's it for?
Elledge's aesthetic gripes center on the two-tone grey zones and the bunching of lines that reduce "simplicity and readability." More to the point of usability, the various Overground routes are all shown in the same shade of orange, making them difficult to distinguish at a glance. There's also the distracting addition of non-essential, non-Tube services like the Emirates Air Line—a local cable car, not to be confused with the actual airline.
The breadth of routes included on the map make it tough for riders to appreciate what type of service they can expect, writes Elledge. Some Overground train branches on the new map run just a couple trains an hour, he says, and travelers who show up at these stops expecting the same service they get from the Central Line in the city will be in for a "nasty shock." All the more reason to depict frequency as well as geography on transit maps.
The digital, zoomable version of the new map is even more of a mess. Among the reasons CityMetric calls it "completely terrible" are a "bird's nest" of Overground orange in East London, a font that's thinner than the old typeface but still looks more cramped, and text that bleeds into the lines as if attempting to board the train itself. Take a look at how it renders for this poor soul:
Yesterday CityMetric went a step further and heaped praise on an alternate Tube map posted to Wikipedia by an "anonymous hero" who goes by the handle "SameBoat." Behold:

The "SameBoat" version differentiates the Overground routes by color, clarifies station interchanges, indicates track extensions in progress, and "doesn't show that sodding cable car." CityMetric offers its seal of approval:
On the whole, sacrilege though it may be to say it, we much prefer this version of the Tube map to the proper one. SameBoat, if you're reading this: we salute you.
Change is rarely smooth, especially when it comes to something as habitual as a transit map, and a digestion period is to be expected. Perhaps critics will notice some merits of the new map in time. Or perhaps Transport for London officials will go back to the drawing board with some of the more confusing elements. Only one thing's certain: Harry Beck isn't walking through that door.