One Bank's Trash Becomes Mizuho's Treasure in U.S. Debt Markets
Lisa Abramowicz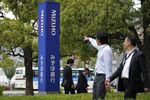 Ever-shrinking yields around the world have left the U.S. looking like a gold mine to Japanese banks.
Mizuho Financial Group Inc., for example, is rapidly expanding its American credit business. The Tokyo-based bank has nearly doubled its company-debt originations team since April, according to Jerry Rizzieri, Mizuho Securities USA Inc.'s head of fixed income. It's also added a collateralized loan obligation group within the past year.
The allure is easy to understand: There's billions of dollars to be earned off companies racing to lock in cheap borrowing costs before the Federal Reserve raises interest rates. And there's more money in the trading frenzy that sales usually prompt -- which offer a more attractive proposition in the U.S. than in Japan, where government bonds have negative yields.
"The U.S. market has been a focus of the organization now for a number of years," Rizzieri said. "There's still significant upside for us."
The Japanese bank bought more than $36 billion of North American loans from Royal Bank of Scotland Group Plc earlier this year, hiring about 40 people from RBS as part of the transaction, according to Rizzieri.
Of course, not everything is so great in the U.S. banking industry. If you just listened to the gloom and doom out of some banks, you'd probably want to run.
CIBC Leaves
Canadian Imperial Bank of Commerce closed its U.S. bond-trading desk in New York last month, with some of that debt trading now being covered from Canada, according to Tom Wallis, a spokesman for the bank.
JPMorgan Chase & Co. will cut thousands of jobs over the next year, said a person with knowledge of the plans last week. And Bank of America Corp., the second-biggest lender, sees reducing expenses in its markets division unless revenue improves, Chief Executive Officer Brian Moynihan said on May 27.
Japanese banks, meanwhile, see greener pastures in the U.S., where top-rated dollar-denominated bonds yield 2.9 percentage points more than similar debt in Japan. That's the most since the beginning of the year, according to Bank of America Merrill Lynch index data.
Underwriting Rankings
As U.S. corporate bond sales have boomed, Japanese banks have grabbed a bigger piece of the pie. Companies have sold $670.5 billion of U.S. investment-grade bonds in 2015 -- the most ever for the period -- generating an estimated $3.3 billion of fees for the firms that managed the offerings, data compiled by Bloomberg show.
Mizuho, Mitsubishi UFJ Financial Group Inc. and Sumitomo Mitsui Financial Group Inc. have all steadily climbed the ranks of corporate-debt underwriters during the past few years.
Mizuho has risen three spots to become the 12th most-active underwriter for U.S. investment-grade bond sales this year, up from No. 17 in 2012, according to Bloomberg data that strips out self-led offerings.
Mitsubishi has climbed one spot since 2014 to become the 13th most-active manager, Bloomberg data show. Sumitomo Mitsui ranks 20th this year, up from 23rd in 2014 and No. 35 the year before.
These Japanese banks see plenty of room to make money underwriting and trading debt in the world's biggest economy, even as others seem to be pulling away.