Rand Paul Wants Redacted 9/11 Information Released
And conspiracy theorists crash his big announcement.
By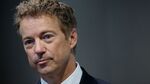 Flanked by members of Congress and the families of 9/11 victims, Kentucky Senator Rand Paul on Tuesday introduced legislation that would force 28 redacted pages of the 9/11 Commission report to be made public. He was building on a promise he made on the campaign trail, and a cause that had been furthered by New York Senator Kirsten Gillibrand and Oregon Senator Ron Wyden, both Democrats.