Rand Paul Wants Redacted 9/11 Information Released
And conspiracy theorists crash his big announcement.
By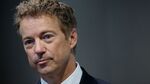 Flanked by members of Congress and the families of 9/11 victims, Kentucky Senator Rand Paul on Tuesday introduced legislation that would force 28 redacted pages of the 9/11 Commission report to be made public. He was building on a promise he made on the campaign trail, and a cause that had been furthered by New York Senator Kirsten Gillibrand and Oregon Senator Ron Wyden, both Democrats.
"The survivors, civilian heroes, and victims of 9/11 attacks–some of whom are here today–deserve the full truth," Paul said. "Fifteen of the 19 hijackers were from Saudi Arabia. While their nationality alone does not constitute any wrongdoing by the Saudi government, information that has been revealed over the years has raised questions about their support."
Wyden and Gillibrand did not join Paul at the announcement of the Transparency for the Families of 9/11 Victims and Survivors Act, though former Florida Senator Bob Graham did. The rollout accidentally emphasized just how fraught the topic of 9/11 can be, 14 years later.
After storms pounded Washington, senators, family members, and journalists had been diverted to a room in the Capitol Visitors Center. By the time some reporters straggled in, the seats at the front of the room had been taken by people with visitors badges, ready with leading questions. Eight TV cameramen had made it in, but the rest of the press, as well as at least one family member, were stuck in a scrum at the door.
That meant that the first question went to a man clad in black clothes, a black backpack, and black baseball cap. He identified himself as Barry Kissin, and started in on a leading question about the George W. Bush administration's knowledge of Saudi connections to 9/11. As he started in, Paul quickly stepped back and encouraged Graham to take the question.
"Is Senator Graham aware of who was the ambassador to Saudi Arabia at the time?" said the man.
"Prince Bandar," said Graham.
"Now, is this the same Bandar that George W. Bush called 'Bandar Bush?'"
"I only know of one Prince Bandar," deadpanned Graham.
Paul then called on a man who asked Graham to run for president (he made a faltering attempt in 2004), then on journalist Wayne Madsen, whose compelling stories of high-level conspiracy did not always check out. He wanted to know what Paul meant when he said that even some Saudis wanted the 28 pages to be declassified. 
"King Salman was the governor of Riyadh before 9/11, and there were reports that he facilitated al-Qaeda members passing through Riyadh on their way to Pakistan and Afghanistan," Madsen said. "Would he be included amongst the Saudis that are in favor of releasing the pages?"
Paul sidestepped that question. "I don't have in front of me the quote, but it was from someone in the government, in the last year," he said.
The strange back-and-forth happened after Terry Strada, the national chair of 9/11 Families and Survivors United for Justice Against Terrorism, emphasized that she was not making any allegations of conspiracy–only that the secrecy around the 28 pages led to dark questions. Her daughter Kaitlyn made the point even more forcefully.
"We are the children of 9/11," she said, "who have grown up in a world where we can't even trust our government."
Toward the end of the news conference, Paul specifically called on "the media" and got some specific questions about his game plan. He said he did not immediately intend to read the redacted pages into the congressional record. "We're gonna try the normal legislative procedure first, and see how it goes," he said. "I will bring it up with the president."
Asked if any of this would disrupt America's relationship with Saudi Arabia, Paul said he saw it "more as just a search for the truth."
"Republicans and Democrats, who were in charge of the inquiry, have said it should be released," he said. "Former heads of the CIA have said that it should be released."
When the news conference ended, Paul headed up to the Senate, chased by reporters asking for his next moves on the USA Freedom Act. Madsen handed Graham a copy of his book, The Star and the Sword, which alleges that Israel and Saudi Arabia both were involved in the 9/11 attacks. Graham took it without much study and left.