Rand Paul to Donors: NSA Fight is Helping Me Beat Hillary Clinton
The victory lap begins before defeat becomes official.
By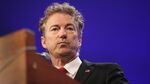 On Tuesday afternoon, a majority of his colleagues will likely vote down amendments to the USA Freedom Act then end Kentucky Senator Rand Paul's current battle to smother most expiring provisions of the Patriot Act. Wasting no time, Paul's campaign is telling voters that the fight elevated the issue and elevated him.