Rand Paul to Donors: NSA Fight is Helping Me Beat Hillary Clinton
The victory lap begins before defeat becomes official.
By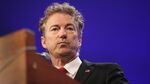 On Tuesday afternoon, a majority of his colleagues will likely vote down amendments to the USA Freedom Act then end Kentucky Senator Rand Paul's current battle to smother most expiring provisions of the Patriot Act. Wasting no time, Paul's campaign is telling voters that the fight elevated the issue and elevated him.
"The very heart of the Washington Machine's abuse of our liberties is President Obama's illegal NSA spying program," Paul says in a new e-mail to supporters. "And standing up for the Bill of Rights and demanding an end to illegal domestic spying is what Americans outside the beltway are crying out for.  That's why polls in states like Colorado, Iowa, New Hampshire and Pennsylvania all show me leading Hillary Clinton in head-to-head matchups. I'm the Republican best positioned to defeat her because I stand up to President Obama and the Washington Machine's illegal assaults on the Bill of Rights."
The polls are not linked in the e-mail, but they're easy to find. In April, Quinnipiac found Paul narrowly ahead of Clinton in Colorado, Iowa, and Pennsylvania. A May 7 WMUR poll gave Paul a four-point lead over Clinton in New Hampshire. All of those surveys came in before Paul's fight against the renewal of bulk data collection, though a CNN poll Tuesday showed Paul coming closer to Clinton nationally than anyone else in the GOP field–even while most voters disagree with him on the NSA.
And Paul's declaration of quasi-victory over the NSA is accompanied by a video that both 1) portrays the NSA as a team of men snarking over computer screens and 2) uses Fox News footage of the Senate debate. That's a way around the Senate rules that bedeviled Paul's campaign this week and forced a similar video to be pulled.
The e-mail pitch ends with an ask: Freedom lovers should give at least $20.16 to the campaign, and celebrate the coming win. "I'm pushing to make sure this week will end with President Obama barred from collecting our phone records," says Paul. If the USA Freedom Act–the bill he opposes–passes as is, that will become true.