Radical Grandma Forces Investors in Madrid Bonds to Ponder Risk
Charles Penty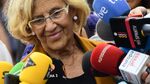 The campaigning grandmother who is frontrunner to become Madrid's next mayor plans to appraise the city's debt before deciding whether to restructure it.
"The first thing is to see what is the extent of the debt," Manuela Carmena, 71, a human-rights lawyer who joined the Communist Party as a student and dodged a 1977 assassination attempt, said at a book-signing event last weekend. "I don't think it's as worrying as it looks."
Carmena emerged as the leading contender to become Madrid's mayor after winning more than 500,000 votes as the head of a group backed by Podemos, the anti-austerity party that advocates restructuring Spain's 1.1 trillion-euro ($1.2 trillion) debt. Investors will be watching what treatment Carmena gives to the city's own debt after her Ahora Madrid group pledged before the May 24 election to audit the borrowings to see how much might need to be restructured.
The premium over comparable Spanish sovereign debt for the city of Madrid's bonds maturing in 2021 widened to about 87 basis points, or 0.87 percentage point, on Tuesday from 85 points before the May 24 vote, according to prices on Bloomberg.
Paying Debts
By comparison, investors charge a premium of about 42 basis points to hold 2021 debt issued by the Madrid regional government, which looks set to stay under the control of the conservative People's Party, or PP, which runs the country. That compares with 46 basis points before the vote.
The city of Madrid had almost 6 billion euros of debt at the end of 2014 and has 735 million euros of payments due this year to lenders including Bankia SA, Deutsche Pfandbriefbank AG, Banco Bilbao Vizcaya Argentaria SA and CaixaBank SA, according to the city's 2015 budget proposal.
"Investors are in a wait-and-see mode," said Cesar Molinas, a former head of European fixed-income strategy at Merrill Lynch & Co. who is the founder of Multa Paucis, an investment consultancy firm. "Carmena is a very seasoned person and she will be careful."
Coalition Talks
In its electoral program, Ahora Madrid said the civic debt results from wasteful spending on "pharaonic" projects that inhibits investment in the well-being of Madrid's citizens.
Reality still may trump rhetoric for Carmena as her lack of a majority forces her to recoil from stances to build the coalition with the socialists she needs to rule, said Antonio Roldan, a London-based political analyst at Eurasia Group.
The most votes were won by Esperanza Aguirre from the PP, which couldn't form a coalition. If Carmena rides the wave of discontent at austerity and corruption scandals to become mayor, she would end 24 years of rule in the capital by the PP.
Ada Colau, another Podemos-backed candidate who led a campaign challenging banks over mortgage evictions, is also the frontrunner to become mayor of Spain's second city, Barcelona. Both Colau and Carmena have said they'll seek to stop banks evicting people who can't pay their mortgages, and Ahora Madrid has also pledged to stop sales of public housing.
Podemos leader Pablo Iglesias has hailed the party's surge in the largest urban centers. On May 28, he said the big cities were again proving to be "engines of change" as they have been in the past and that the decline of the PP and Socialists was an irreversible trend.
The regional elections did see a drop in support for Spain's traditional parties, with the PP and socialists winning 52 percent of the vote compared with more than 65 percent in 2011, said Roldan. Even so, it's unclear that Podemos can repeat its success on a national scale in elections due by the end of this year.
"The market is not very worried about the elections," said Oscar Moreno, who helps manage about 2.5 billion euros in pension funds at Renta 4 SGIIC in Madrid. "For now, there is certainly no panic."