Obama's AIDS Boss Appeals to Apax, Nike for Help to Curb HIV
Simeon Bennett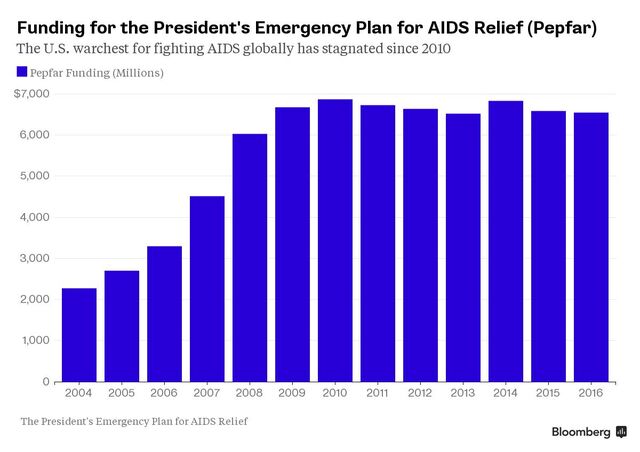 Deborah Birx wants to wring more from the $6.8 billion the U.S. gives her each year to fight AIDS around the world. Hampered by a stagnant budget, she's cutting off funding to clinics that fail to find HIV cases and looking to Starbucks Corp. and Nike Inc. for ideas.
Birx, appointed by President Barack Obama last year as the administration's global AIDS coordinator, has tapped the Nike Foundation to help craft HIV prevention messages for young women. She's also sought advice from John Megrue, chairman of the U.S. unit of private-equity firm Apax Partners LLP, on organizational change.
The cost of fighting AIDS climbs by $2 billion a year, but U.S. funding hasn't increased in five years. That means some hard decisions, like no longer financing HIV testing for hundreds of clinics in Africa that a recent audit showed had found hardly any new cases of the lethal virus.
"If you had a Starbucks that never sold coffee, you wouldn't keep the site open," Birx said in an interview in Geneva. "It's not that we're abandoning sites, but we're saying, let's go where there's HIV, focus our resources there."
The audit of about 50,000 clinics that get funds for HIV testing from the President's Emergency Plan for AIDS Relief, or Pepfar, found that about half those in East Africa aren't detecting new cases because they're in areas with very low infection rates, according to Birx. Patients who need treatment won't have their funding cut off, she said.
Razor's Edge
Established by President George W. Bush in 2003, Pepfar pays for life-saving HIV treatment for 7.7 million people and has contributed more than $60 billion to the global fight against AIDS. Those funds, together with more than $74 billion from the Geneva-based Global Fund to Fight AIDS, Tuberculosis and Malaria, have helped slash new infections and AIDS-related deaths by more than a third.
Yet as people with HIV live longer, the costs of treating them keep climbing. Also, if public health officials don't manage to turn off the tap of new infections, especially in the most-at-risk groups, they risk losing control of the epidemic again, Birx said.
"We're right at that razor edge," she said. "Unless you dramatically change the infection rate in young women, the epidemic is actually going to expand rather than shrink."
Pepfar spent $6.8 billion last year on antiretroviral treatment, testing and circumcision, and has sought $6.5 billion from the U.S. Congress next year.
Roads or Drugs
Birx has also tapped the U.S. Treasury Department to help make the economic case for investing in the fight against HIV. In as many as eight African nations, including Mozambique, spending on AIDS could create economic growth that would more than compensate for the investment, she said.
Birx met last month with finance ministers from Mozambique, Malawi, Uganda and Zambia to persuade them of the economic benefits of investing in the AIDS fight.
"We've spent the last several decades talking to ministries of health, and that's terrific," Birx said. "But we have to be able to talk in cogent terms to ministries of finance, because we're competing with roads and telecoms and infrastructure."
In fact, Pepfar should operate more like a business focused on eradicating new infections, according to Birx, who says she turned to the likes of Apax and Nike because they have experience transforming companies to make them more efficient.
"Some people look at the private sector and say we'd really like to have their financial investment," she said. "We would really like to have their intellectual investment. A company like Nike can convince people to buy Air Jordans even though they never saw Michael Jordan play."
Before it's here, it's on the Bloomberg Terminal.
LEARN MORE