Dan Loeb Ignored 'Sell in May and Go Away' and It Paid Off
Simone Foxman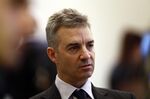 Billionaire Dan Loeb said at the start of last month that he planned to disregard the market proverb to "sell in May and go away."
His decision proved prudent. Third Point rose 1.9 percent last month and is up 5.7 percent in 2015, almost double the gain in the Standard & Poor's 500 Index. Other managers who trade mostly stocks did even better. Larry Robbins's main fund at Glenview Capital Management jumped 6.2 percent last month; David Einhorn's Greenlight Capital rose 3.6 percent and Mark Kingdon's stock fund at Kingdon Capital Management returned 4.7 percent, according to people with knowledge of the returns who asked not to be named because the returns aren't public.
Hedge funds are benefiting from increased mergers, a jump in biotechnology stocks and rising Chinese equities. Some managers are also profiting from a stronger U.S. dollar and bets against European sovereign debt, lifting an industry that's failed to keep pace with benchmarks in recent years.
"May was a strong month for select funds across a few strategies," said Rick Teisch, co-chief investment officer at Liongate Capital Management, an investment firm that specializes in allocating to hedge funds. Hedge funds that wagered on Asian stocks and mergers in health care and technology were among the best performers, said Teisch.
Perceptive Profits
Perceptive Advisors, a $1.2 billion hedge fund that focuses on health care, gained 8.2 percent last month, chief executive officer Joseph Edelman said. Those gains don't include profits the firm made from investments in private companies, which he estimated would bring returns to approximately 27 percent in 2015.
Kingdon, which manages $2.7 billion, told investors at the end of April it was buying Chinese stocks and shares of oil companies. The main stock fund is now up more than 12 percent this year, compared with the 3.2 percent rise in the S&P 500, including reinvested dividends.
Glenview, which manages $11.6 billion, was one of several managers whose gains last month built on a lackluster start to the year. The fund was up 0.5 percent for the first four months this year and is now up 6.8 percent. The main funds at London-based Lansdowne Partners and New York-based Greenlight Capital reversed losses last month.
Lansdowne's $10.2 billion Developed Markets Fund, which is led by Stuart Roden, Peter Davies and Jonathon Regis, rose 4.3 percent last month through May 22, according to a person.
Improved performance by long-short equity managers may be temporary because most of the firms that have done well are long stocks, said Anthony Lawler, a money manager at GAM Holding AG, which invests in hedge funds.
Macro Funds
"Everyone wants to believe in long-short equity because it's the biggest allocation in alternatives," said Lawler. "But if you think about the stars in long-short equity, most of them are long-biased."
Lawler said he's more interested in macro funds that have gained from a rising U.S. dollar, long holdings in Europe, the U.S. and Japan and bets against Treasuries and European sovereign debt.
One such fund, Autonomy Capital Research's Global Macro Fund gained 3.6 percent last month through May 22, according to a person with knowledge of the performance.
Spokesmen for the firms declined to comment on the returns.