politics
Lindsey Graham's Hometown Celebrates its Native Hawk
The South Carolina senator kicked off his campaign Monday in small-town fashion.
By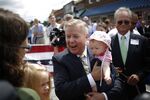 First there was the National Anthem, then the Pledge of Allegiance, then the prayer. After all of that, and a short jazz interval, South Carolina Senator Lindsey Graham's sister Darline took the stage to talk about the death of their parents and the role her brother filled.
"One of my fondest memories is Lindsey teaching me how to ride a bicycle, on that sidewalk, right over there," she said. "He would hold onto the bicycle, as I pedaled, and he'd run along beside me, give me a push, and say 'Keep pedaling, keep pedaling.' And then he was the one who comforted me when I fell off the bicycle."
Graham, minutes away from announcing his presidential campaign, looked out at his sister from inside a Central, South Carolina, storefront. Decades earlier, it had been the entrance to the liquor store, above the pool hall where Graham worked and lived.  
"When I needed Lindsey, he put my interests ahead of his own," said Darlene Graham Nordone. "In politics, he has done the same thing, putting the country's interests ahead of his own interests."
The senator had never really concealed this side of his story. In the months before he launched this presidential bid, he frequently began events by describing how he raised his sister, and how the good people of Central saved them both. During his victorious 2014 Senate campaign, Darline recorded an on-camera recap of the Graham childhood, and the Graham campaign was making her available to reporters who wanted to color in the candidate's biography.
Yet at the same time, Graham himself was offering the darkest rhetoric and most muscular foreign policy of anyone in the field. "We will never enjoy peaceful co-existence with radical Islam because its followers are committed to destroying us and our way of life," Graham said in Central. "The world is exploding in terror and violence but the biggest threat of all is the nuclear ambitions of the radical Islamists who control Iran."

Graham's announcement briefly took over the town of Central on Monday, flooding its main street with flags, signs, and bunting. Local elementary and high schools gave students waivers to crowd on the outskirts of the speech and watch the local celebrity speak on a stage set up near the railroad tracks. A man threaded through the crowd selling campaign buttons with Graham's picture that read "Hometown Hero," and Central's mayor proudly declared that the town was the "center of the political universe," if just for an hour.
And if the speech was an indication, Graham's presidential campaign would combine one-of-us folksiness with a pervasive dread about threats to America. He was a hawk, but a tender hawk. He would defend the security state and argue for foreign interventions just when the Republican base—previously chastened by the Iraq War—was rediscovering a fear of terrorism.
The people of Central were ready for that. As Graham spoke, never raising his voice, they gave their biggest applause to criticism of the Obama administration's foreign policy and praise of the "one-percent of Americans who are the men and women of the United States Armed Forces." Lou Hansen, a Vietnam veteran who waved two miniature flags and sported a Veterans' Day tie-in shirt from Applebees, chimed in "all right!" and "that's right!" whenever Graham praised the troops.
"The other candidates have no military experience," said Hansen. "None, zero, and it ticks me off. We need somebody that's got military service in that job."
Graham took multiple opportunities to indulge that theory of politics. "I have more experience with our national security than any other candidate," he said. Then, in an ad-lib, he looked up from notes and made a joke: "That includes you, Hillary. I know the players—our friends and our enemies alike. Most importantly, they know me."
The candidate's schedule, including his retirement from the Air Force reserves, had kept him out of Washington during Sunday's debate on the Patriot Act. He did not mention the law specifically in the speech, only that "radical Islam is running wild." The people who showed up to hear him filled in the blank spaces: A dangerous world required serious surveillance.
"Nobody wants it now, unless something happens and everybody will want it," said Barbara Hamberg, an administrator at nearby Clemson University. "God forbid we have another 9/11. With threats like ISIS, and God knows what else, sometimes safety trumps privacy. And I never thought I'd say that."
Tom Turner and Kendrick Green, students who'd com in from nearby Seneca, had been 3 years old on 9/11. They, too, were sold on Graham's approach to threats.
"His foreign affairs policy is beautiful," said Tom Turner, a high school student from Seneca, the nearby town where Graham now loves. "Rand Paul would be finished if something, God forbid, would happen on American soil."
Green agreed. "If we'd had the Patriot Act in place," he said, "9/11 would have been discoverable."
As Green finished his thought, a miniature flag blew by his feet and onto the ground. He scrambled to pick it up. 
"Whoa, whoa!" he said. "You can't let that happen!"
When the flag was recovered, Green said that he'd given strong consideration to joining the military after college. If he did, he'd be at home in South Carolina. Graham's strategists point out that New Hampshire and South Carolina are thick with veterans. In Central, when he asked veterans to identify themselves, Graham saw about a quarter of his audience shoot their hands up. Were they looking for the candidate of patriotic small town schmaltz? They'd found him. 
After his speech, and one last paean to Central, Graham jumped off his stage and worked all four sides of its bunting-covered barrier. Carrying the key to the city, posing for selfies with ROTC cadets, he spend 15 minutes wading through the adoration and joking about the heat. "You're sweaty!" he kept saying, to people who were, true enough, showing the effects of the June heat. When he saw someone he knew personally—and that was often—he pulled them in for a hug or tight handshake.
Before re-entering the old liquor store (now a real estate shop, above the pool hall, which was still in business), Graham greeted a pro-life activist who'd lost his legs in Vietnam. Wayne Cockfield had known Graham for years, and saw a straight line from his compassion for his sister to his implacable opposition to abortion. It mattered, too, that this extremely folksy and relatable guy was a veteran. Cockfield clenched his fists, enraged, as he talked about Islamic State forces capturing Iraqi cities that Americans had liberated.
"I spent two years and three months in the hospital," said Cockfield. "I had 27 operations. See, veterans know what war is. To me, if I could change the Constitution, I'd make it a requirement that you couldn't hold any public office without having military service prior." He thought about this. "But that ain't gonna happen."
CORRECTION: An earlier version of this story incorrectly identified Graham in the 21st paragraph.
(Corrects reference to Graham in 21st paragraph.)
Before it's here, it's on the Bloomberg Terminal.
LEARN MORE