business
How Tennessee Got Caught in Turkey Feud Cross Hairs
Isobel Finkel and Fercan Yalinkilic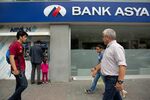 BlackRock Inc. said its iShares MSCI Turkey fund sold Bank Asya stock on May 27, two days before the Istanbul-based lender was taken over by the government.
The fund manager no longer has any holding in the bank, Melissa Garville, a BlackRock spokeswoman, said in e-mailed comments Tuesday. The fund's website erroneously showed that iShares still owned the bank's stock as of May 29, based on shares that had been sold but had not yet settled.
The lender, linked to supporters of U.S-based preacher Fethullah Gulen, an enemy of Turkish president Recep Tayyip Erdogan, was seized by the state in a May 29 raid. That's put investors in limbo as the government decides what compensation they might receive.
"The Erdogan-Gulen feud begins as a familiar story of former political allies turned into bitter adversaries," Jonathan Friedman, senior associate at political consultancy Stroz Friedberg, said by phone from London. "But once you dig deeper, it turns out to be much more than that. Their dispute has ripple effects across the globe."
Ever since a corruption scandal implicated members of Erdogan's close circle in late 2013, he's pursued Gulen, his followers and businesses linked to his movement. The takeover of Asya caps more than a year of regulatory action against what was once Turkey's largest Islamic lender, including the cancellation of government contracts and relegation to trading on a markets watchlist.
The regulatory interventions wiped two thirds off the bank's market value since the corruption probe.
Banking Regulator
The banking regulator swooped in to seize Asya's shares late last Friday, with the stated aim of protecting savers and ensuring the "stability and confidence in the financial system."
Now the government's going to look at the bank's accounts to determine whether shareholders will get any compensation. Turkish banking law says they could have a 12-month wait while auditors decide if the bank's equity outweighs its losses.
Yesterday Ergun Ozkan, a Turkish lawyer, said he's preparing to sue government regulatory institutions on behalf of local shareholders. Yet because of exchange-traded funds, which passively track Turkish indexes, there may be more investors who've been affected by the fallout.
Many holders of the bank's shares with special voting rights are followers of the preacher Gulen, who's lived in exile in Pennsylvania since the 90s.
(Corrects to show BlackRock sold Bank Asya before its takeover in first paragraph, after fund's website erroneously showed them holding the stock on May 29. Removes references to Tennessee throughout.)
Before it's here, it's on the Bloomberg Terminal.
LEARN MORE