business
Merkel Steps In to Speed Greek Deal as Tsipras Heads West
Arne Delfs, Nikos Chrysoloras and Ian Wishart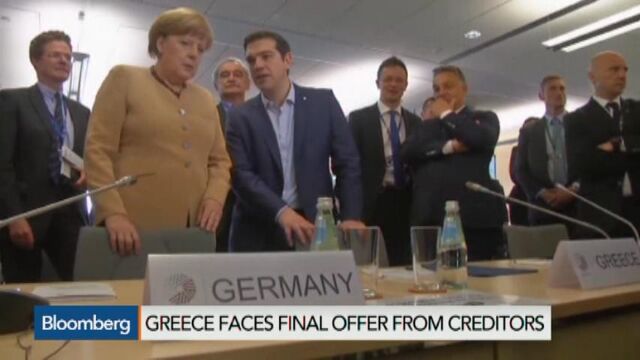 German Chancellor Angela Merkel is trying to speed up a resolution to the four-month standoff over Greece's finances as Prime Minister Alexis Tsipras pursued late-night talks with European officials in Brussels.
As head of the biggest country contributor to Greece's 240 billion-euro ($268 billion) rescue, Merkel stepped in to unblock the stalemate starting on Monday with a top-level huddle in Berlin. Tsipras is meeting Commission President Jean-Claude Juncker and Eurogroup Chairman Jeroen Dijsselbloem this evening to discuss the next steps, according to an EU official.
"Everyone is working -- whether in the bilateral or trilateral telephone talks that the French president and I are leading -- to help reach a conclusion within the agreed timeframe for the completion of the program," Merkel said at press conference in Berlin on Wednesday. "We're working on that with high intensity."
Weeks of antagonism and missed deadlines have given way to a greater urgency to decide the fate of Greece. The country has four payments due to the International Monetary Fund in June while its existing bailout expires this month. European Central Bank President Mario Draghi on Wednesday called for a "strong agreement" to end the deadlock.
Merkel met with Draghi, Juncker, IMF chief Christine Lagarde and French President Francois Hollande on Monday night to precipitate an accord. Creditors then agreed on a new document designed to avert a default and end the impasse. Tsipras said he planned to present his own plan.
Focusing Minds
"With just days to go before Greece runs out of money, the new troika strategy of first agreeing among themselves on a final proposal and then presenting it as a final offer is an appropriate way to focus minds in Athens," Jacob Kirkegaard, senior fellow at the Peterson Institute for International Economics in Washington, said in a report.

The euro was up 0.9 percent against the dollar after rallying on Tuesday amid optimism about a Greek deal, gaining 2 percent. Greek stocks and bonds advanced, with the Athens Stock Exchange index gaining 4.2 percent. Yields on two-year notes fell 118 basis points to 22.8 percent.
Greece is trying to get hold of more money from its existing bailout to avoid default. While officials acknowledged the efforts, there were the usual mixed messages on timing.
Hollande said in Paris that an agreement is "several days away, maybe several hours away" from completion. German Finance Minister Wolfgang Schaeuble said little had changed. Dutch counterpart Jeroen Dijsselbloem, who heads the group of European finance ministers working on a deal, doesn't expect a one to be reached tonight, according to his spokesman.
No Ultimatum
While stopping short of an ultimatum, it puts the onus on Tsipras's government to shelve some election promises or jeopardize the country's euro status.
Sticking points in the talks have included budget measures, pension reforms and changes to Greece's labor laws, with Tsipras and his Syriza party talking about red lines.
Greece needs an agreement that fosters economic growth and social fairness, though is "fiscally sustainable," Draghi said at a press conference in Frankfurt to discuss monetary policy. It needs to be strong "in design and implementation." He said the talks were in a state of flux.
Read this next:
Tsipras said he will press creditors to be realistic about what his country can accept as they prepare to deliver the final proposal for a financial lifeline.
"I will explain to Juncker that today, more than ever, it's necessary that the institutions and the political leadership of Europe move forward to realism," Tsipras said in a broadcast statement in Athens before traveling. He said there had been no feedback on the Greek proposal.
Before it's here, it's on the Bloomberg Terminal.
LEARN MORE