Dollar General's Shares Rise After Profit Exceeds Estimates
Nick Turner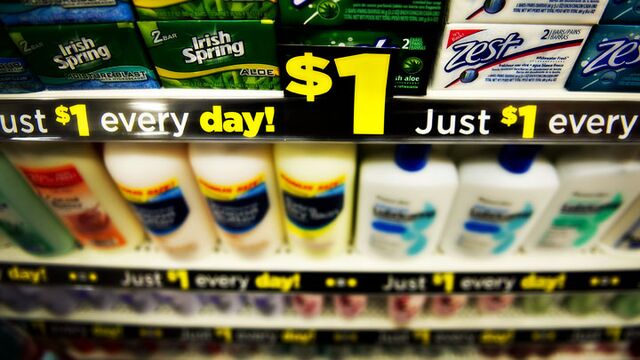 Dollar General Corp. shares rose the most in more than two months after first-quarter profit topped analysts' estimates, helped by sales of tobacco, candy and health products.
Earnings rose to 84 cents a share in the period, the Goodlettsville, Tennessee-based company said on Tuesday. Analysts predicted 81 cents on average, according to data compiled by Bloomberg.
Dollar General, whose two biggest rivals are merging, is striving to maintain growth as dollar-store competition gets fiercer. The company saw sales increases in the first quarter from both consumables, such as snacks and cigarettes, and nonperishable items, including clothing and home goods.
The stock climbed 3 percent to $74.98 in New York, the biggest one-day gain since March 12. The shares are up 6.1 percent this year.
Family Dollar Stores Inc. investors approved an almost $9 billion takeover by Dollar Tree Inc. in January, spurning a higher offer from Dollar General. Dollar Tree convinced shareholders that its transaction would more easily clear antitrust hurdles. The deal is expected to be completed next month.