Concacaf Party Goes on as Soccer Body Is Enmeshed in Scandal
By
Delegates sip wine at reception days after raid on offices

Concacaf officials Webb, Warner were among those indicted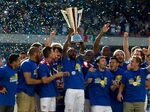 Soccer officials in blue blazers sipped wine and lined up for photos with models in short black dresses, carrying on in fine style Monday night less than a week after their Miami headquarters was raided in a corruption sting.
The Concacaf soccer federation hosted representatives from Central America, North America and the Caribbean at a Miami concert hall to select brackets for the Champions League tournament. Acting chief Ted Howard said he was "shocked, disappointed" by the latest allegations of corruption in world soccer. 
"We took very quick action in Zurich," Howard said. "We hope everyone realizes that we are taking positive steps but we're going to show you with our actions, not by telling you or pounding our chests or anything."
The tournament draw came amid controversy and uncertainty for international soccer and especially Concacaf, the regional group at the center of last week's FIFA arrests. The 47-count indictment issued by U.S. prosecutors charges corruption among Concacaf's leadership, including President Jeffrey Webb, primarily in the form of bribe-taking, vote-buying and illegal payments.
A 50-year-old former Cayman Islands banker, Webb was head of Concacaf from 2012 until his dismissal last week. The indictment claims that bribe-taking, an issue before his arrival, flourished during Webb's tenure, all while he publicly touted reform. Concacaf is one of six regional federations that operate under the umbrella of FIFA, world soccer's governing body.
The indictment says Concacaf corruption dates back to Webb's predecessor, Jack Warner, who was first elected in 1990. Both Webb and Warner are accused of orchestrating bribes through a high-ranking executive at the sports marketing firm Traffic Sports USA, known in the indictment only as co-conspirator #4.

A 2011 corruption scandal led to the demise of Concacaf's previous leadership.
Last week's indictment says Webb sought a bribe from Traffic, negotiated by co-conspirator #4, just before becoming Concacaf president, then later hired co-conspirator #4 to be his No. 2. Those and other details in the indictment match Concacaf's current general secretary, Enrique Sanz, who worked at Traffic before being hired by Webb as general secretary in 2012.
Traffic Sports said last week in a statement that it would continue working with authorities and wouldn't comment further. Webb was fired as head of Concacaf and Sanz, who wasn't named in the indictment, was suspended indefinitely. Neither could be located for comment.
Howard said it was too early to say how the confederation would respond to the latest crisis and whether it will make its finances public.  
"We're just too new into this right now," Howard said, adding that his job was "to make sure we're doing everything we can to do the right thing for the sport."


The indictments came less than two months before the start of the Concacaf Gold Cup, the region's premier soccer event, set for July 7-26 in the U.S. and Canada. 
For more on FIFA, read this next: