Blatter's Departure Signals Sweeping Overhaul of Global Soccer
Tariq Panja, Andrew Martin and Alex Duff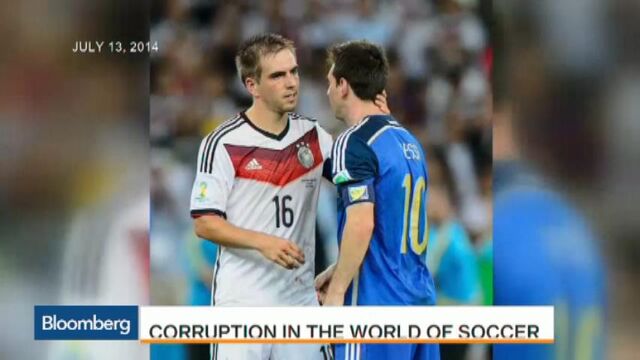 Sepp Blatter's sudden resignation threw wide open the future of world soccer.
Even as the drumbeat for Blatter to step aside intensified, he dug in his heels after winning a fifth term as FIFA president last week. Then, just four days later, the embattled 79-year-old hastily scheduled a news conference on Tuesday afternoon in Zurich to say he had had enough.
His departure creates both an unexpected opportunity and deep uncertainty at FIFA, an organization battered by decades of scandal. U.S. prosecutors are looking into Blatter as part of their sweeping corruption probe that resulted last week in a 47-count indictment against FIFA executives and other soccer figures, people familiar with the investigation say.

"It's been going on for so long," said Jon Doviken, a former deputy secretary general of FIFA who was ousted after being part of a group that tried unsuccessfully to unseat Blatter in 2002. "I had predicted that people would have to carry him from that office. He is in love with FIFA."
In remarks that followed Blatter's blockbuster announcement, Domenico Scala, the independent chairman of FIFA's audit and compliance committee, vowed major reforms to the soccer organization. Scala also said FIFA will disclose the president's salary, a closely held secret under Blatter.
"Nothing will be off the table, including the structure and composition of the executive committee and the way in which members of the executive committee are elected," he said. Currently, the executive committee consists of the FIFA president, eight vice presidents and 15 members, appointed by the six regional confederations and 209 member associations.
Empire Crumbles
Blatter's $1-billion-a-year empire started crumbling as soon as Swiss police acting on U.S. extradition requests roused senior officials from their beds in a luxury hotel last week.
"Although the members of FIFA have given me a new mandate and re-elected me president, this mandate doesn't seem to be supported by everybody in the world of football," Blatter said Tuesday in Zurich.
Michel Platini, a former Blatter lieutenant turned critic, is the man considered most likely to lead soccer's governing body into a new era, with U.K.-based William Hill making him favorite at odds of 6-5 to be the next FIFA boss. The former French national team player and coach, who heads European soccer governing body UEFA and called on Blatter to quit last week, said in a statement Tuesday that the president's announcement was ``a brave decision and the right decision.''
'Positive Change'
Blatter's announcement represented an "exceptional and immediate opportunity for positive change," U.S. Soccer President Sunil Gulati said in a statement. "I commend him for making a decision that puts FIFA and the sport we love above all other interests."
Blatter's decision could jeopardize Qatar's plan to host the 2022 World Cup, which has been sharply criticized because of the Middle Eastern country's scorching heat, human rights abuses and lack of soccer tradition. The odds of Qatar, a country about the size of Connecticut, losing rights to the world's most watched sporting event were slashed to 5-4 from 5-1 on Tuesday by U.K. bookmaker William Hill.
Qatar is spending about $200 billion on infrastructure for the event. A Twitter statement on behalf of Sheikh Hamad Bin Khalifa Bin Ahmed Al-Thani, president of the Qatar Football Association, said "we welcome the office of the Swiss attorney general conducting its own work into the bidding process" for the 2022 World Cup.
Controversial Tenure
Responding to Blatter's resignation announcement, Prince Ali bin al-Hussein of Jordan, who was Blatter's only challenger in last week's presidential election, told CNN that he was "at the disposal of all the national associations that want change, including many who were afraid to do so before this day."
It emerged Tuesday that FIFA's No. 2 official under Blatter authorized a $10 million payment that a prosecutor characterized as a bribe. U.S. prosecutors say that person was Jerome Valcke, a person familiar with the matter said.
Reaction to Blatter's resignation from around the soccer world came swiftly, from Russian disappointment to elation among other European countries.
"His resignation came as a surprise to me," Russia's Sport Minister Vitaliy Mutko said, according to the state-run Tass news service. "From Blatter's statement it is clear that he wants to save FIFA, awaiting further reforms."
Russian President Vladimir Putin, an outspoken supporter of Blatter, has criticized the American criminal investigation as an attempt to oust Blatter and undo Russia's selection as host of the 2018 World Cup.
Many nations were less forgiving.
New Era
"We have all the time stated that FIFA needs a new leadership -- that it is time for Blatter to step down," Karl-Erik Nilsson, chairman of the Swedish Football Association, said in a statement on its website. "He's now doing that, and we think that's good."
For more on FIFA, read this next:
Blatter's departure means a new era for world soccer is starting, others said.
"All the corrupted directors from the federations will feel his departure as a tsunami," Brazil's 1994 World Cup winner Romario wrote on his Facebook page. "This is the best news of the recent times!"
Anxious Sponsors
Blatter's announcement could mollify anxious sponsors, several of whom expressed concern over the recent round of indictments and vowed to reassess their relationship with FIFA.
The Coca-Cola Company, a major FIFA sponsor, said Tuesday in a statement that Blatter's decision was "a positive step for the good of sport, football and its fans."
Visa, also a major FIFA sponsor and one that was harshly critical after last week's indictments, said in a statement posted on Twitter that it was "encouraged by the recognition by FIFA that extensive and fundamental reform is needed as reflected by the announcement that President Blatter is resigning." And the Adidas Group said in a statement: "Today's news marks a step in the right direction on FIFA's path to establish and follow transparent compliance standards in everything they do."
Technical Officer
Blatter joined FIFA as a technical officer in 1975 and was first elected to succeed Joao Havelange as president in 1998. During that time, Blatter witnessed 10 World Cups on five continents over four decades at FIFA.
As president, FIFA's income ballooned -- the latest World Cup tournament generated almost $5 billion in revenue -- and more than $1 billion of that was shared with member nations via so-called "solidarity" programs.
A trip to Ethiopia in 1976 ultimately led to his biggest achievement, taking the World Cup to South Africa in 2010.
"This World Cup for him, it's like a mother with a baby," Walter Gagg, a FIFA aide and a friend for four decades, said in a 2010 interview. "For him, this will be his legacy."
At the same time, FIFA's reputation was battered by successive crises as Blatter suppressed criticism of the organization. In 2004, he said public interest in women's soccer would grow if players wore "tighter shorts" and later compared player trading to "modern slavery."
His handling of the 2001 collapse of the organization's marketing partner ISL was called "clumsy" in a report by FIFA's ethics head that Blatter eventually cleared for publication in 2013. It said Blatter's predecessor and mentor, Havelange, received bribes from the defunct marketing company. Other senior FIFA board members were also named.
FIFA's reputation sunk even lower after the 2010 vote for Qatar and Russia, and Blatter's successful presidential campaign a year later. After his only opponent, Qatari Mohamed Bin Hammam, withdrew following accusations of trying to bribe voters, Blatter secured the post for a fourth time.
He said the term would be his last and he would rebuild FIFA. With FIFA still mired in crisis, Blatter backtracked, saying he would go on. He tried.
(Earlier versions of this story corrected the amount Qatar is spending and the size of the nation's GDP.)