Amassing Billion-Dollar Fortunes Is Still a Game for the Old
But how to get rid of it all?
By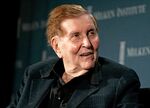 If you want to be rich — really rich — it pays to be patient. With near daily headlines dedicated to the likes of Mark Zuckerberg, Larry Page, Jeff Bezos and Elon Musk, it could be tempting to see wealth creation as a job for the young. In fact, billionaires below the age of 40 own just 2 percent of the $3.2 trillion controlled by the 200 wealthiest people in the world. More than 40 percent, or $1.3 trillion, is in the hands of billionaires older than 70.  
Only three of the world's top 200 billionaires are under age 40, according to the Bloomberg Billionaires Index. Two of them, Zuckerberg and Dustin Moskovitz, both 31, made their fortunes through Facebook. Meanwhile, there are six billionaires older than 90 who have $110 billion among them, or 3 percent of larger group's combined wealth. 

UBS Group and PwC highlighted the aging issue in their 2015 Billionaires report, which declared that more then two-thirds of the world's richest people are "in the corridor of wealth transfer" and facing the decision of what their legacies will be. In the days following the report, 97-year-old Karl Wlascheck, the world's third-oldest billionaire after David Rockefeller and Kirk Kekorian, died, leaving behind two children and a widow. 
With their careers nearing an end, many billionaires are looking to preserve wealth and transfer fortunes to the next generation, according to the report, a situation faced by Sumner Redstone, 92, who heads media company Viacom and is planning a hand off to his daughter, Shari, and his five grandchildren, according to a Bloomberg profile published yesterday. 
Research for the post is derived from Bloomberg Billionaires Index data. Get the latest intelligence about the world's biggest fortunes on Twitter @bbgbillionaires.