Worker Religious Rights Backed by U.S. Court in Scarf Case
Greg Stohr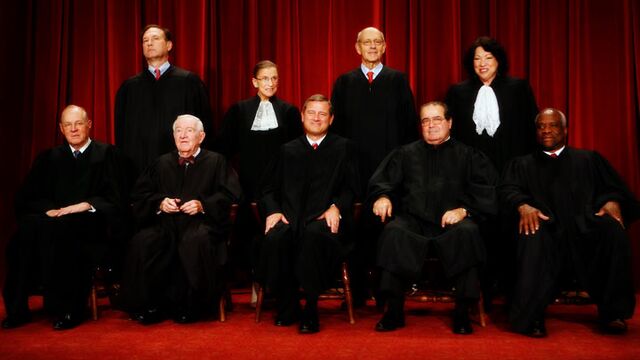 The U.S. Supreme Court bolstered the religious rights of workers, siding with a Muslim woman who was denied a job at Abercrombie & Fitch Co. because she wore a head scarf.
The 8-1 ruling will require businesses to take more initiative to avoid discriminating against prospective employees whose religious practices conflict with a workplace rule.
The majority said businesses can be sued for bias even if they didn't know for sure that an applicant had religious reasons for wearing particular clothes or needing time off. Federal law requires employers to accommodate religious needs when feasible.
"An employer may not make an applicant's religious practice, confirmed or otherwise, a factor in employment decisions," Justice Antonin Scalia wrote for himself and six other justices.
Abercrombie refused to hire Samantha Elauf for a job at a Tulsa, Oklahoma, store in 2008, in part because the scarf she wore to her interview didn't comply with the company's dress code.
A federal appeals court said that wasn't religious discrimination because Elauf didn't explicitly tell an Abercrombie interviewer that she was wearing the scarf for religious reasons.
Job-Discrimination Law
Scalia said the appeals court's interpretation was at odds with the wording of the federal job-discrimination law. He said it was enough that Abercrombie knew, or at least suspected, that Elauf's scarf was religious.
Justice Clarence Thomas dissented on the central question and said he would have thrown out the suit. Justice Samuel Alito said he agreed that Elauf's case could move forward but disagreed with Scalia's reasoning.
The ruling sent the case back to a lower court without specifying what the next steps will be. A jury awarded $20,000, and the U.S. Equal Employment Opportunity Commission, which is suing Abercrombie on Elauf's behalf, will have a chance to seek reinstatement of that award.
Abercrombie said in a statement that the court "did not determine that A&F discriminated against Ms. Elauf." The company said it has made changes to its dress code to let employees be "more individualistic."
The case aligned President Barack Obama's administration with religious organizations, pitting them against business groups looking to fend off lawsuits over dress codes and work schedules.
Claims Rising
Claims of religious discrimination in the U.S. workplace are on the rise. The EEOC received 3,549 formal complaints last year, almost double the number 15 years earlier, though down from a peak of 4,151 in 2011.
The case stems from Abercrombie's requirement at the time that its in-store salespeople, whom it called "models," reflect the store's style. Under Abercrombie's "look policy," salespeople had to wear styles similar to the clothing sold in the store and were prohibited from wearing hats or anything black.
Elauf, then 17, wore a black scarf, known as a hijab, when she met with an assistant manager about a job at an Abercrombie Kids store. The subject of her religion never arose during the interview, and the manager, Heather Cooke, was prepared to offer Elauf a job.
Cooke then discussed Elauf's scarf with Randall Johnson, an Abercrombie district manager. Johnson said that, because Elauf would be in violation of Abercrombie's dress code, Cooke should downgrade the girl's interview score and deny her the job.
Similar Suits
Abercrombie, which is based in New Albany, Ohio, previously agreed to pay $71,000 to settle two similar suits in California. In Elauf's case, the company said its actions were legal because it didn't have "actual knowledge" that Elauf wore a scarf for religious reasons.
The Obama administration urged the court to require employers to inquire when they have reason to believe a conflict exists. The administration argued that job applicants like Elauf often won't know whether their religious practices might violate a company policy.
Religious groups said in court papers that the case will have implications for the growing practice of online employment applications. The groups said many of those online systems ask job-seekers to indicate any scheduling limits, and automatically reject applicants who say they aren't available on the Sabbath.
The case is Equal Employment Opportunity Commission v. Abercrombie & Fitch, 14-86.