Watch the Father-and-Son Bond of Joe and Beau Biden in 5 Videos
They both had a chance to talk about the good and the bad times over the years.
By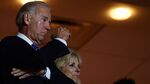 Vice President Joe Biden's son Beau died on Saturday at age 46 after suffering from brain cancer. Here are five moments when they talked about each other, their family, and their bond.