Fashion
The Face of Men's Wearhouse Is Back With a New Tailoring Startup
It's called zTailors, an on-demand network for clothing alterations
By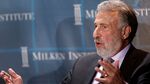 Nearly two years after his dramatic firing from Men's Wearhouse, George Zimmer has returned with an army. An army of tailors, that is. 
The retail icon's new startup, zTailors, is a nationwide network of on-demand tailoring professionals. Launched on Monday, the business allows customers to book a tailor to come to their home or office to handle alterations on garments—both men's and women's wear. After measurements are taken, the clothes are whisked away for tailoring. The process should take a week or less, before the items are returned to customers. If the fit's wonky, additional changes are free. The service is available only through a website for now, but an app is planned for the near future.
"We think this is a hell of an idea," says Zimmer. "I've had a 40-year tradition with tailors, and they are the quintessential underdogs." It's something of a labor of love for the 66-year-old Zimmer, now winding down his career.
The concept behind zTailors popped into Zimmer's mind on New Years' Day, 2014, following his ouster from the company he founded in 1973. In the summer of 2013, the Men's Wearhouse board unceremoniously booted Zimmer, accusing him of trying to assert control of the publicly traded company. His bearded visage had appeared for decades in endless TV commercial spots for Men's Wearhouse. "You're going to like the way you look," he'd repeat each time. "I guarantee it." 
Although the startup world of 2015 is foreign to Zimmer, he says he's learning as fast as he can. His new digs are quite different from the shop he opened more than 40 years ago in Houston, hawking polyester sport coats for the everyman. ZTailors' office, in downtown Oakland, has high ceilings and a communal bullpen. "It looks like a startup," says Zimmer, contemplating what that actually means. "Not that I know what that looks like." 
Zimmer first alluded to zTailors at an unscheduled appearance at a Salesforce conference in October, when he mentioned he had a "high tech, high touch" company in the works. At first, he felt intimidated by building a wide network of businesses. Then he chatted with a friend, Salesforce's Marc Benioff, who assured him it'd be no sweat. "I start asking him whether or not his platform would be able to track all these variables, and he insisted that his system could do it," says Zimmer. "From that, I started this idea."
Zimmer says he owns about one-third of the company and holds an advisory role of chairman. Scott Silverstein, former president of Twin Hill, a Men's Wearhouse subsidiary that sells corporate apparel, is chief executive.
At launch, zTailors will serve most of California, Texas, Florida, and New York's Tri-State area, with expansion on the way. To qualify for inclusion in the network, tailors are tested for their ability and interviewed by an executive. They undergo background checks, including a criminal background check, and must have five years' experience. Thus far, 600 tailors have signed on, and the company plans to have 1,000 by the end of the year.
But will Zimmer guarantee that customers will like the way they look if they use his service? "I'm very careful not to use that word," he says. "I'm fine using it in jest or for charity, but I'm not using it commercially."
Before it's here, it's on the Bloomberg Terminal.
LEARN MORE