Snow Waiting to Melt Sends Nordic Power Prices to New Lows
Jesper Starn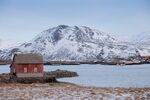 Nordic power prices dropped to record lows as above-usual rainfall and snow-melt were set to contribute to hydro power supplies, which account for 53 percent of the region's electricity.
Nordic power for next month dropped 27 percent to the lowest for a month-ahead contract since at least September 2003 on the Nasdaq Commodities exchange in Oslo on Monday. Unmelted snow in Norway and rainfall seen at as much as 160 percent more than average over the next two weeks mean supplies of water for power generation are at their highest since 2012, according to Markedskraft ASA, an energy adviser in Arendal, Norway.
The amount of snow left unmelted in Norway's mountains at this time of the year is "exceptionally high," according to Olav Botnen, a senior analyst at Markedskraft. The snow levels and rainfall should be enough to allow increased hydropower production because of low Nordic nuclear output and increased exports to the rest of Europe, Botnen said.
"What is special about this year is the slow melting of snow in the the Norwegian mountains," Botnen said by phone on Monday. Cold temperatures in May left much of the snow layers intact, he said.
Nordic power for next month dropped to settle at 11.50 euros ($12.50) a megawatt-hour on Monday. The benchmark front-quarter contract declined 13 percent to settle at a record 16.35 euros per megawatt-hour.
The amount of unmelted snow in Norway is 21 terawatt-hours more than usual for the time of year, according to Markedskraft. One terawatt-hour is enough to supply 200,000 average Swedish households with electricity for a year.