Scotland's Sturgeon Urges 'Sensible' EU Change in Brussels Visit
Ian Wishart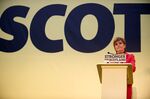 Scottish First Minister Nicola Sturgeon will set out her own ideas on how the European Union should be reformed in a speech in Brussels aimed at making the case for the U.K.'s continued membership of the 28-nation bloc.
"Sensible proposals for change stand a real chance of commanding acceptance," Sturgeon will say on Tuesday, according to extracts of her address released by the Scottish government. "The EU should focus on areas where joint working and cooperation will make a tangible difference to the lives of others."
The first minister's stance emphasizes her distance from U.K. Prime Minister David Cameron over Britain's future in the EU. He has promised the U.K. a referendum on leaving the bloc before the end of 2017. While Cameron is proposing a renegotiation of membership terms that may require revision of the bloc's underlying treaty, Sturgeon will say that she doesn't believe such wholesale changes are necessary.
"There's a danger the U.K. will focus the debate on the size of the reforms achieved, rather than the bigger picture of the value and importance of the EU," she will say at the European Policy Centre. "We see the European Union as a positive force for Scotland and the U.K. as a whole. And we will make an overwhelmingly positive case for continued membership."
Sturgeon, whose Scottish National Party won 56 of Scotland's 59 districts in the May 7 U.K. general election, will say the EU should revamp some of its regulation to make rules less burdensome on businesses, and should give more autonomy to national governments in areas such as public health.
Cameron began a round of visits to EU capitals last week to make his case for changes including reduced welfare payments to EU migrants into Britain.
The first minister, whose party advocates an independent Scotland within the EU, has demanded that any vote to leave the EU must win a majority in Scotland, Wales and Northern Ireland as well as England to be valid.