politics
Bernie Sanders Sees Crowds and Poll Numbers Grow in Iowa
Martin O'Malley, Hillary Clinton's latest challenger, was also in Iowa pitching caucus-goers.
By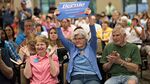 Hillary Clinton continues to dominate the Democratic field in Iowa, but she now has two rivals who spent the weekend in hot pursuit of voters in the first nominating contest where she finished a disappointing third place in 2008.
A campaign event in Davenport by Vermont Senator Bernie Sanders, who tripled his Iowa support in the latest Bloomberg Politics/Des Moines Register Poll, produced a standing-room-only crowd of some 750 people (the event was slated to seat 300 people), the planner told the Burlington Free Press. It was one of a string of stops in Iowa over the weekend that produced impressive crowds, where Sanders pressed his unapologetically progressive and populist message.
Also in Davenport over the weekend, Martin O'Malley, the newest entrant into the Democratic race, drew a crowd of about 50 to 100 people at a union hall during his first official campaign stop. He spoke to a larger crowd of some 200 in Des Moines as he carried a message of cracking down on Wall Street and ushering in new progressive leadership for the next generation.
"There are only two paths for us: One is a sensible rebalancing for our common good, and the other is pitchforks," O'Malley said, according to the Des Moines Register, stressing his 15 years of executive experience as mayor of Baltimore and then governor of Maryland.
The stops came within 24 hours of his announcement on a hot Baltimore morning Saturday that he would seek the Democratic nomination, during which he called for breaking up "too big to fail" banks and assailed political dynasties.
Appearing Monday on ABC's Good Morning America, O'Malley explained why he went from endorsing Hillary Clinton for president in 2008 to challenging her in 2016.
"Well, I was for Secretary Clinton in 2008. She and I both worked hard to elect the president and to reelect the president. But times change. And different challenges require new leadership," he said.
Did he change or did she change?
"I believe the times changed," O'Malley said, referencing the economic crash of 2008 "that was precipitated by reckless behavior on Wall Street" and "people are earning less than they were" today.
Before it's here, it's on the Bloomberg Terminal.
LEARN MORE